100 Ideas for a Fascinating Freebie
A great freebie (giveaway) on your website does all kinds of good for your coaching business.
It :
Builds your credibility
Drives people to your website (there's a good reason to go there other than your begging them to "check you out")
Can generate leads when you put calls to action in it
Builds trust
Essentially, it gives people a good taste of what you're about while delivering valuable content to them.
A checklist type of freebie is fabulous because it is :
easy to make
easy for people to consume (download, read, print, use)
super valuable if the content is well-chosen
And so, one great move for your website's freebie is creating some sort of checklist like these:
10 Point Health Checklist: Are you doing the basics for great health?
The Before You Build Website Checklist – 16 Things to Have in Place
12 Fight-Starter Words to Avoid, If You Want Good Communication in Your Relationship
In my recent messings with OneLook.com, a great place to find new words, I looked up words related to "checklist".
I got a big list. Here it is :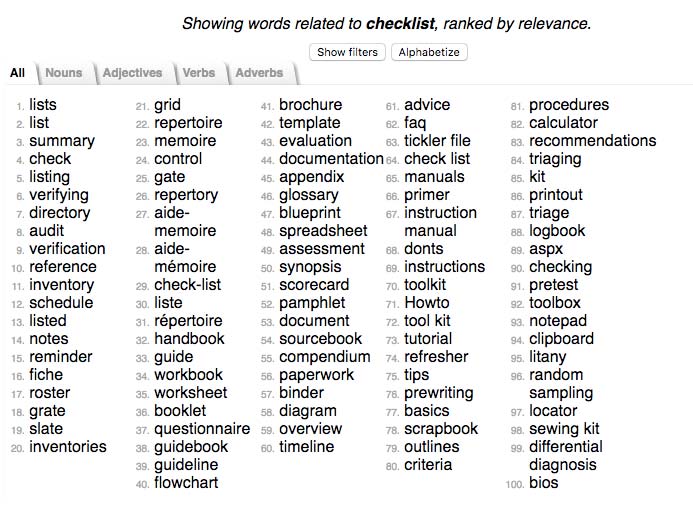 As you can see, there's a LOT!
Depending on your area of coaching, you could find words that suit.
Here are two quick ideas that come to mind:
Profit Tool Kit for Construction Businesses – A List of Must-Have Tools
Relationship Reminders List – 10 Little Things That Keep Your Woman Happy
Are any ideas coming to mind for you?
Share it below. I'd love to hear.