100 Ideas for a Fascinating Freebie That Attracts Clients
Having a great freebie (that giveaway, free download, resource, tip sheet, report, video, etc) on your website does all kinds of magical goodness for attracting clients.
When done well, it:
Builds your credibility high as a talented coach
Educates your market so they can tackle their
Drives people to your website for good reason — much better than the beggy "check out my site" line
Generates leads if can capture an email address or entice recipients to get in touch for coaching (or buy something)
Builds trust with people like a true professional (gurus who love their craft share their wisdom via information)
Essentially, a well-designed coaching freebie gives people a good taste of what you're about, delivers value, and begins to foster a potential coach/coachee relationship.
However, it can take some work to pull one together. So, I suggest you do this.
For newbies to the marketing scene, a swift savvy first-go is to create a checklist of some sort — a tip sheet, a 1-pager list, or cheat sheet.
These work well because they are …
easy to make, they can be a simple text document with an image
readily accessible via a download link, or private link to a video
super valuable if the content is chosen well
A good marketing move should be smartly chosen, but more importantly it's one that you actually get done. And a simple freebie can do the trick.
A few examples for a checklist kind of freebie …
10 Point Health Checklist: Are you doing the basics for great health?
The Before-You-Build Website Checklist – 16 Things for High Crediblity
12 Fight-Starter Words to Avoid, If You Want a Happy Relationship
I love OneLook.com for finding new words, I looked up words related to "checklist".
I got a big list. 100 to be exact. And here's that massive list which you can use to formulate your freebie for your coaching website.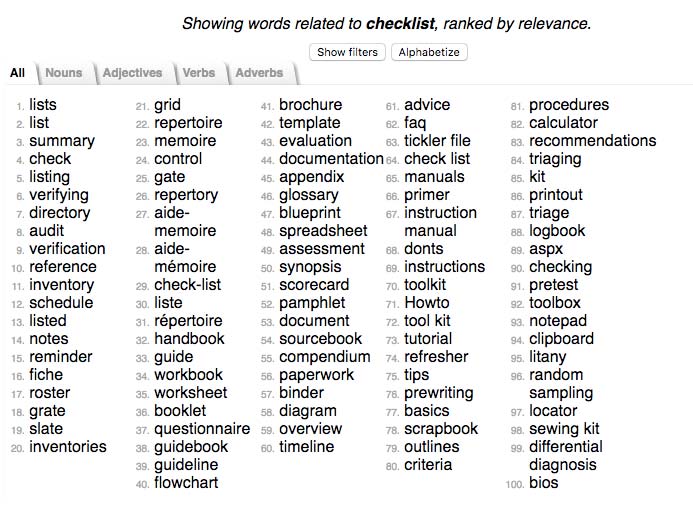 As you can see, there's a LOT!
I wrote a lot about free giveaways in The Coaching Website Guide as well as the rest of the content on your coaching g website. It might be worth having at hand as you work on your website.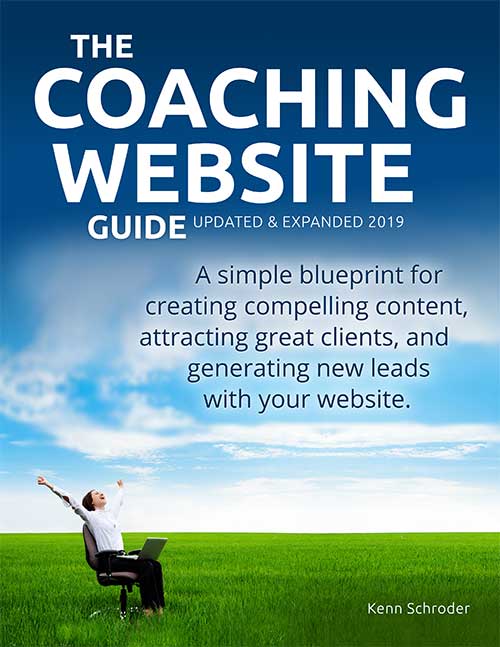 Depending on your area of coaching, your website's personality, seek words to suit.
Here are a few quick ideas that come to mind. Can you feel how the words fit the vibe you'd expect on the website?
Profit ToolKit for Construction Businesses – Do You Have These Essentials?
Relationship Reminders Diary : 7 Daily Reminders for a Loving Relationship
Career Adventure Audit – 10 Points to Ponder to Discover Your Passions
Again, these can be simple one-page documents that provide handy information which shows you're a pro while enabling you to follow up.
Are any ideas coming to mind for you? If so, post them below. Love to hear about them.