Make Great Titles for Ebooks, Blogs and More With OneLook, a Dictionary Search Tool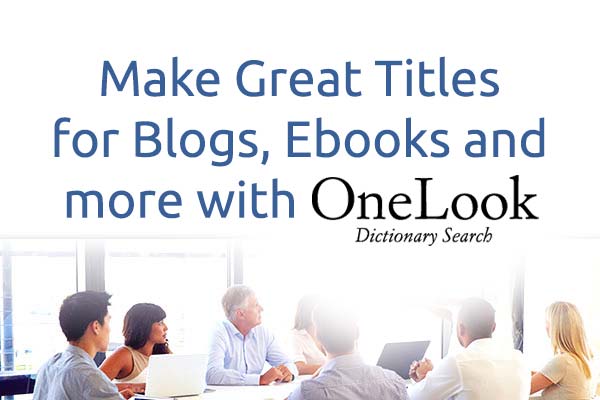 I was recently directed to a sweet resource for finding great words called OneLook.
OneLook's tagline is "dictionary search". 
You can look up definitions, related words, words that start with certain letters and more.
Here's a screenshot of the simple, minimal but functional home page (love it!)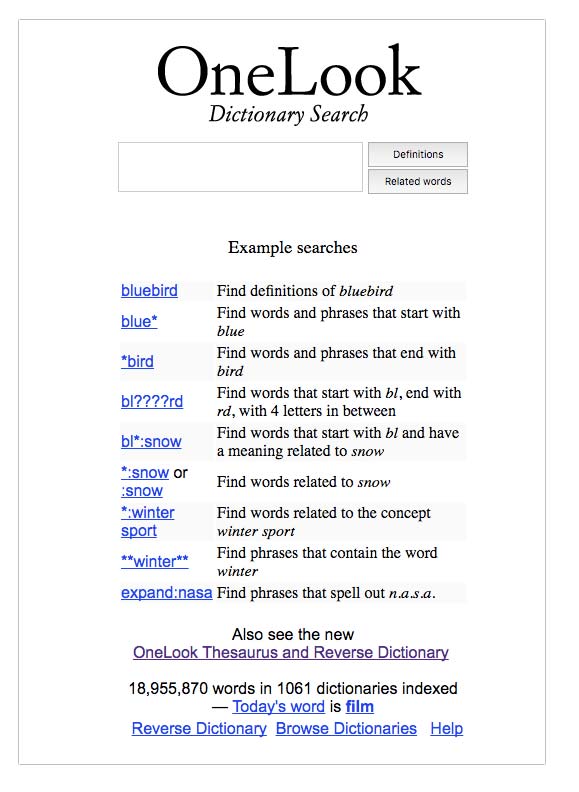 OneLook is ultra handy for crafting juicy, exciting, attractive titles for things like blogs, books and articles.
If you know me, I'm big into titling things.
Articles, emails and books and basically any digital asset you may use in the marketing of your coaching business should have a good title.
Titles get attention and get people to dig further.
Titles are vitals for marketing.
A quick way to learn the 2 keys to a title that gets people to click is Santa's MV Technique.
And while you tweak your titles, use OneLook to find related words.
Here's an example for a checklist.
A smart move for a freebie is creating a checklist.
(There are many types of freebies and how to structure them is important as well. I talk about them in The Coaching Website Guide. But a simple checklist is often a good move.)
So if we look up, say, checklist in OneLook, we get these possibilities.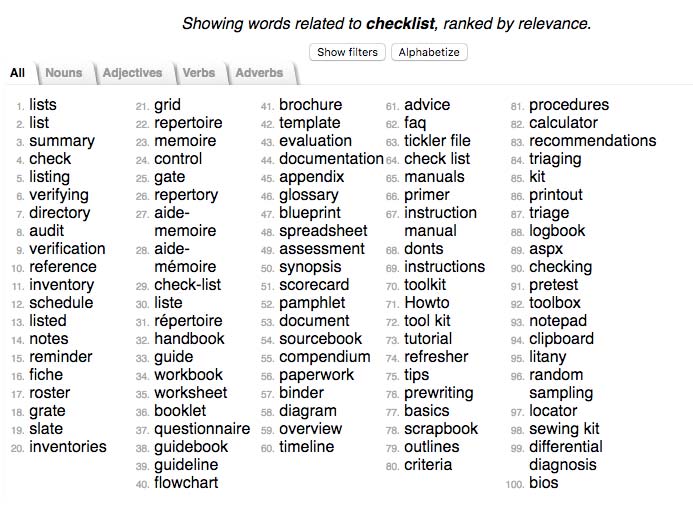 And so, quickly grabbing a few words from this list, you could come up with ideas for your freebie like:
Kickstart Your Day ToDo's (perhaps you are a business/productivity coach and you have a simple 5-minute activity to help someone get productive early in the morning)
Healthy Meal Audit (it could be that you are a health coach for accountants or legal professionals and want to help them make decisions on how to construct good meals)
Positive Partner Primer (maybe you're a relationship coach who works with couples on creating good communication that builds their loving bonds)
As you can see, all of these can be simple checklists for things to go over to help someone in a small, but vital way.
If you're more general of a life coach, then it could be simply something like Positive Attitude Checklist – a simple way to check in on yourself and measure your positivity level and then quickly make adjustments to boost your mojo.
I used OneLook for the new tagline for The Coaching Website Guide.
I'm currently updating The Coaching Website Guide and I wanted to tweak the tagline.
And so I went to OneLook and put in the word "guide" to find more related terms.
Here area bunch of "related terms" that came up …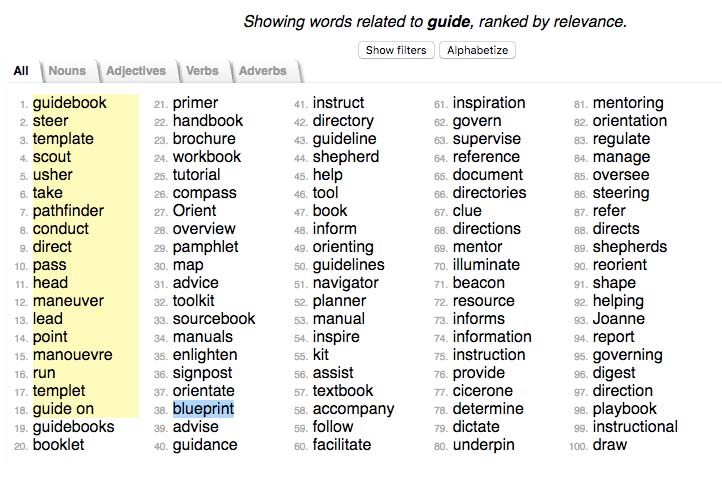 And after using OneLook and talking to past book buyers, the word blueprint made it to the new tagline.
The old tagline was …
Build an expert presence, grow a loyal following, and attract new clients.
The new one is …
A simple blueprint to create compelling content, attract ideal clients, and generate new leads.
It was great to have a few ideas and run them by my market to find the ideal one. It gives me confidence about the title – knowing folks will be drawn to it.
That's actually worth highlighting: run your titles by your market (as a test) to hone it.
Give OneLook a try on your next info asset.
Be it an ebook, a checklist, a giveaway or pdf of some sort, be sure to muck around with OneLook to find words to make your titles sing.
And if you are struggle with content creation and you want your website to bring you new client leads, you may want to get a copy of The Coaching Website Guide to help you along.
Used OneLook? Got another handy word-smithing tool? Post your comment below.