How Hosting Can Silently Screw Up Your Coaching Biz
In short, if your website doesn't run fast, people will leave. Your opt-in list will not grow as fast and people won't see your offerings or contact you for coaching. Slow website = people go bye-bye. Slow websites are a silent client-killer because most website owners don't pay attention to it enough.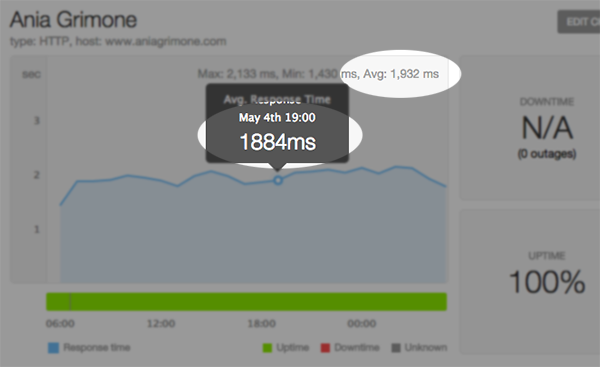 Above is a new coaching website on BlueHost, a popular hosting provider I'm testing out. The average speed for the last month was 1932 milliseconds, which is 1.9 seconds, on their very basic plan. Her site very simple with straight text and a few good images (not too large). My wish is to find a host with speeds under one second. But for now, this is pretty good.
When testing speed, bear these in mind:
Be sure to test your speed on your mobile device as they often have slower speeds than at home.
Be sure to test speeds on different computers as your older one might be the cause of slow pages.
Test out your downloadable files, they need to be quick.
Test out videos as well, to ensure they run properly.
Try it out in a cafe or other travel-like area. They usually have slower speeds but are popular.
If your site seems slow, check out other popular sites like FaceBook or Google. If both are slow, it's a good sign that the issues is not your host. Also, quickly call a friend to see if your site is slow for them. If it's not, it's probably your own computer or connection.
If your site is slow, try it again an hour later or another day to ensure it's consistently slow. One-off slow moments can happen for a variety of reasons.
Restart your computer or browser and try again. This will ensure it's not your computer.
Check to see if you're not downloading something else at the same time. If you're backup is uploading files to your remote location, that could slow things down.
If your site is slow, it could be a recent new plugin you added to your site. If you're savvy with WordPress, try disabling the plugin to see it's the cause.
Update your website software if needed. This often resolves issues as the programmers had already resolved the issue and you just needed to apply the update.
If you're setting up a new website and want to make sure your speeds are fast be sure to test on your computer/devices and setup an account at Pingdom.com. To get low cost hosting with good speeds (so far), then try BlueHost.
Love your host? Had a good or bad experience? Got fast speeds? I'd love to hear about it. Please share your comments.