How to Back-Up Your Website (Protect Your Marketing)
Protect your marketing.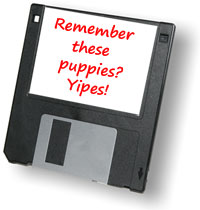 You should back your website on some regular basis, especially if you're continually adding content.
Why?
Websites can get hacked. I have heard it.
Hosting companies can goof-up. I've been there.
You and/or your designer can goof-up. I've been there.
The result: lost website.
While your hosting company probably has your website backed-up on premise, you can easily set up something simple to eliminate the risk.
How to do it? Some ways:
Ask your web designer to do it and send you a zip file (use www.yousendit.com for big files).
If you've got no designer to do it, then your hosting company should have instructions on how to access and download your website files.
If you use an online site builder of some sort, check their FAQ and/or ask customer service about getting a backup of your website.
If you have a WordPress blog or a site built on a WordPress platform, you'll want to back up both the website pages (which present your content) and the database (which hold the written content).
With WordPress you can have your database emailed to you weekly using a plug-in called WordPress Database Backup (WP-DB-Backup).  This is automatic. Ahhh!
Your web designer may also know of other possible tools to help you automate the backup process regularly. Ask.
The most ideal situation is to create an automated process. Even if it's as simple as telling your VA to log into your hosting company, download all the files, and zip and email them to you once a month.
What are you doing to backup your website? (I won't even ask about your computer!)