Life Coach Steve's Website Tweaks for Generating Leads
Visitors to your site need a BIG WHY to stay at your site and invest their time to learn about you. You need to give them that.
Also, you need to GROW the relationship with them and start giving value. That's how any relationship (love, friend work) is started – mutual benefitting.
Here are BEFORE and AFTERs for life coach Steve Vaughn's website to both make his site highlight the big WHY and to GROW the relationship …
I like this bit, "Life Coaching that builds bridges for change and transition." as it tells me what you do and a bit about the benefits. But, I'd juicify that to make visitors say to themselves, "OMG! I gotta read every word on this site!"
Steve, if that's you in the picture, put your name next to it so we know and zoom in as it's hard to see you.
The theme font effect is making the text that goes, "The process …" is blurry. It's a shadow effect and if possible, try to remove that for normal looking font.
Also, to get more clients from your site, tell people (visitors) to TAKE ACTION and do something like "go read this next" or "sign up here for tips" or "call me to find fast ways to make great changes in life".
As it stands, I'm left to my own vices to figure out what's next and nothing really grabs me. I'd probably just leave or poke around "hoping" something would be interesting. It's better for them to be like, "Wow! I gotta read that" or "Hey! this looks super valuable."
Here's the BEFORE: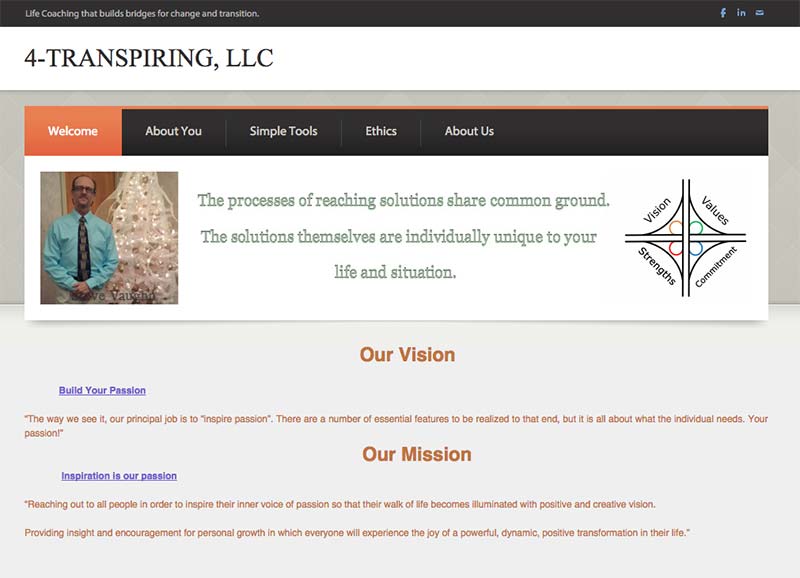 Here's the AFTER: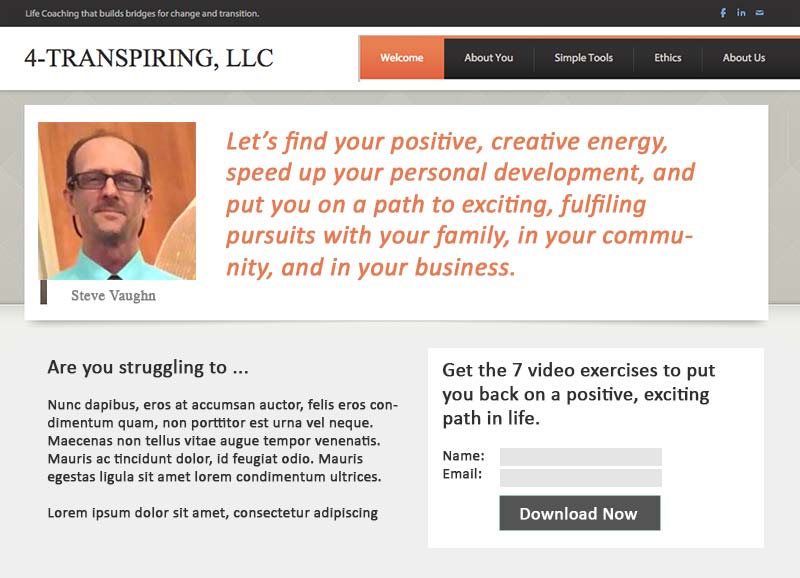 Steve, I know you probably have limited control over theme, but try to do what I've done there as best possible in the layout given.
In the end, if you want to get clients (or  sales, or signups, or participants, whatever you're offering as your coaching program) remember to also:
1. Lead with benefits and value
2. Grow trusting bonds with your market
3. Challenge (or invite) people to take action
4. Offer them coaching.
5. Get #s of what's going on so you can steer yourself to results you want
6. Find great hangouts where a very high percent of ideal clients can discover you
7. Direct people to your site, "not to just check you out" but to, again, get value and grow the bond.
Thanks for sharing your site. Getting feedback is a great move. Kudos on you for sharing.
What are you finding helpful here?