New Coaching Website Goes Live: Refocus and Thrive
I'm in Brisbane, passing through on my way to New Zealand for another summer spell and operating from the Black Star Cafe, what one american expat claims is the best coffee in Brisbane. They roast their own coffee here and it can get very hot.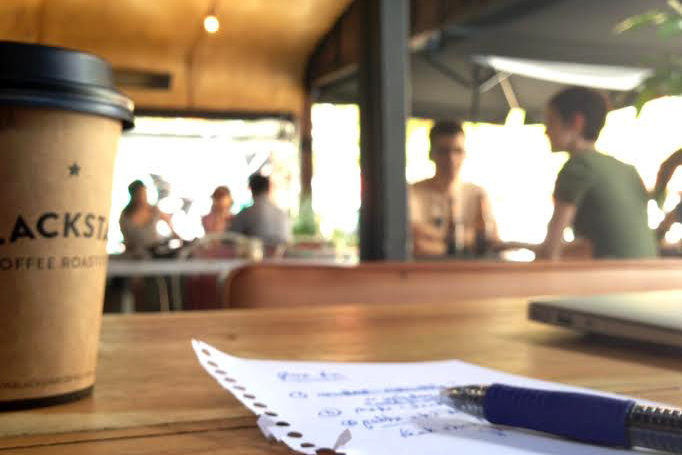 I want to share with you three great things about Shushanna's website, a new site that went up about a month ago to help her grow her career-life coaching business. She works with women who are stuck in a work-life funk, and helps them make some changes to feel thriving and alive again – a key element of that is in their job/career/work/biz.
Three great things as I worked with her to build this site:
1. Speed.
A big sticky spot in growing a coaching business, especially when it comes to the web is getting a good website up in short order. There's a lot to do. You've got to create content, focus your message, create visuals, and build pages. Getting it done quick is a huge challenge for many. We got it done in 6 weeks with a few small assignments each week. Getting a site up quickly is great for momentum. Long drawn out projects are buzz kills.
2. Chemistry.
Shushanna has a great voice and is a very diligent person to work with. I've been hearing how it "matters more WHO you work with" than "WHAT you work on". Don't people leave their jobs more so due to conflicts with people and not the work itself? So things went well between the two of us. When you do hire a designer or anyone you intend to work with on your business, pay some attention to how well you "jive".
3. Strategy.
Your site must fit into your bigger biz growing strategy. In this case, what was important for her was a professional image and a site that supported her client-attraction efforts. We skipped the list building aspect and free giveaway due to the amount of work involved at the moment, but at the same time we did setup her site to clearly explain what she did (in a client-centered way I should add) and lead visitors to contact her for coaching – her call to action.
On a side note, she did add her email list opt-in right after to start moving towards a solid list marketing strategy, so her site is starting to grow.
The site is up new and she's beginning to incorporate it with her business.
In the future, I would love for her to create a killer giveaway and rock-solid automated email to educate and win trust with new subscribers (aka potential clients).
Here's her feedback to me on the website:
I told you on the call last night that I was happy with it, but now I've spent more time on it, I LOVE it!!! In our work together, the effort to think through content was the most helpful part. A few months ago if someone asked to see my website I was like, "Uhh …" and very reluctant. Now, I'm very happy to send them knowing it reflects what I do and will motivate them to action. The person I sent to it last night just jumped on my list.
Here's her site: Refocus and Thrive with Shushanna Mignott.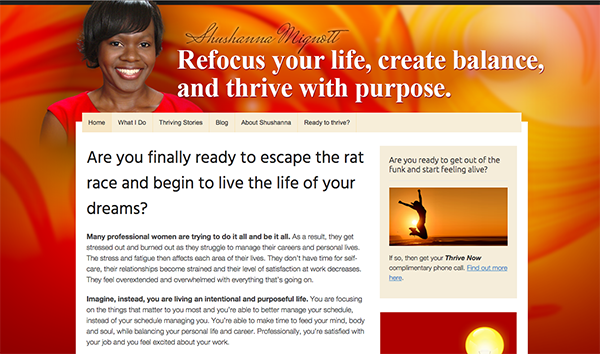 Comments, thoughts, ideas, and reactions are welcome. Post below.