The List-Builder Coaching Website Model
The primary aim for many coaches is to secure plenty of clients, earn an income and do what they love – helping others succeed. And to achieve this aim coaches want a great website to help. One type of website that can work is the simple list-builder coaching website.
This is simply a homepage with a form on it and a giveaway such as a pdf, video or audio. Visitors just enter their name and email, access the giveaway, and end up on your email list. From there, the relationship can grow and you can garner new clients.
This type of website is called the 1-pager website, a 2-page website, the opt-in page, or a landing page (it's one type of).
Key benefits of taking this approach for your coaching website are:
You can get a site up relatively quickly compared to websites with menus, blogs, etc.
You can easily measure activity – the number of visitors to the page, the number of sign-ups to the list and the number of people who respond to an offer that you send by email.
You can learn from this – you can try different text on the home page to see what works better or not.
It's a lower cost solution since there's less work involved.
In my guide, learn to craft a great freebie that people will want, to write engaging articles that builds your image, and to craft a free consultation invitation that gets people to contact you for coaching. Learn about The Coaching Site Guide.
The minuses are:
Many coaches will feel this kind of site is professional like one with many pages (bio, services, contact and home for example). Thus these coaches would be hesitant to sending prospects to such a website.
Visitors to the page may feel this kind of page is a blatant attempt to get an email address. Often these pages are salesy.
It's not so great for bringing traffic from search engines.
Here's a diagram to see how the list builder website fits into generating clients: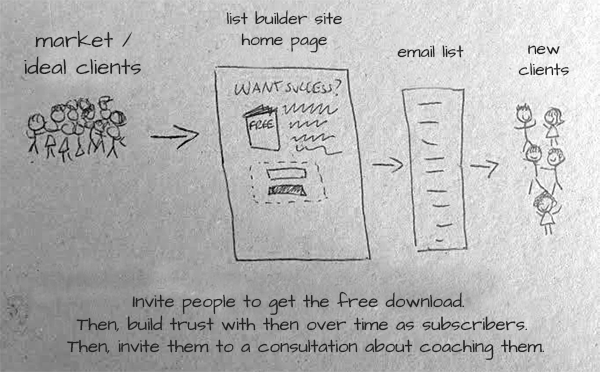 To get this approach to work well, you need (1) a great free download (giveaway) they'll climb mountains to get, (2) good content that impresses your list subscribers, and (3) compelling invitations and a consultation that leads them to saying yes as your client.
Ever build a list-builder type of website? An opt-in page? How'd it go? What worked or didn't? Or have you been wondering about these kinds of sites and have a question?