How to Write Website Content for Coaches – 29 Topics Clients Love
How do you write website content that engages and excites visitors — ultimately leading them to contact you for coaching?
It's such a great question. Let me share the findings that have worked for myself and the coaches I work with.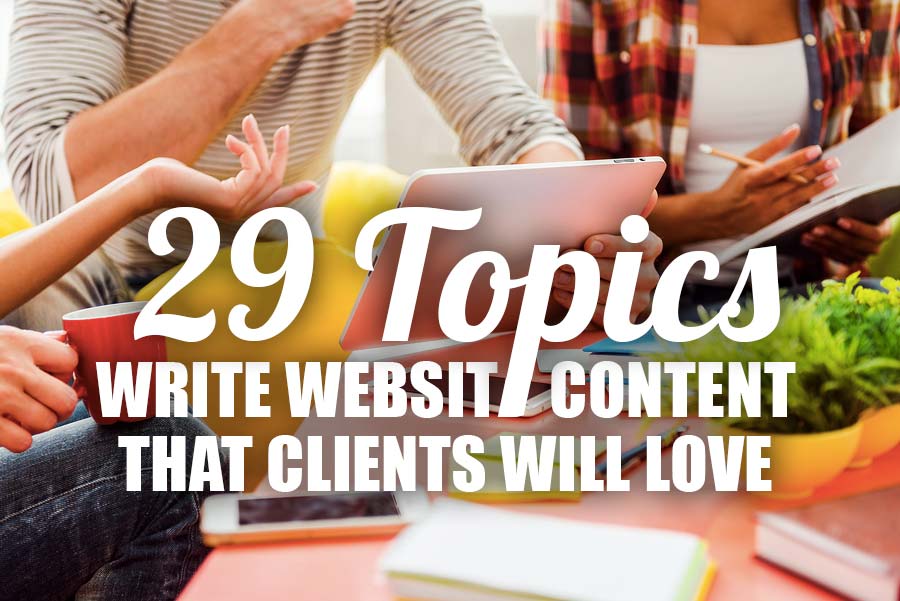 In this article, you're getting …
A human behavior lesson about getting people to perk up
The 29 topics for writing website copy clients will love
Two approaches for boosting your copy right now
A personal trick to 5X your writing efforts
Before we dive in, coaches tell me they love the step-by-step writing guides in my book. Check that out if you're having a hard time with content.
Ok, let's go …
What Human Behavior Tells Us About Writing Website Content
I've read many books on personal development, human behavior, marketing, habit formation, motivation, and productivity.
There's a common idea that's worth knowing when it comes to content.
It's this, in my own words …
We, humans, are always on the lookout for danger, trouble, and problems so that we can avoid them and survive — like avoiding lions when we hear their roars or hurrying home when dark clouds appear. We seek tools, resources, and knowledge to make life better — like wandering forests for fruits and fresh streams to feed the tribe. These behaviors are ingrained deeply. And so, we will forever be drawn to things that stop problems and make life better.
In The Subtle Art of Not Giving a F*ck, Mark Manson says, "Life is essentially an endless series of problems. The solution to one problem is merely the creation of another."
These days, the problems we face (that coaches help greatly with) are less about avoiding lions or finding food, but more so about:
Bringing more meaning and fulfillment in work, careers, pursuits
Having better health and energy — there are so many modern ailments
Creating healthy relationships, finding love, increasing wealth
And so many more …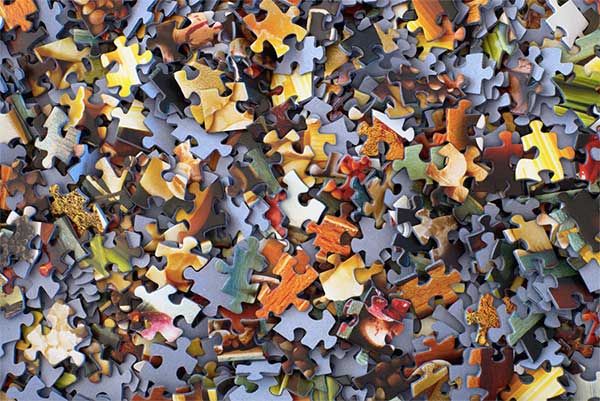 And so, here's my bit of expert wisdom to impart on your content creating journey …
Since we are creatures who want to avoid danger, survive, and find tools to help us thrive, when you attempt to write about coaching — a tool for a better life — always relate it to how you'll avoid problems and live life better. If you do, people can't help by pay attention to what you write about. That's our natural design.

Kenn Schroder
This works out perfectly for coaches because your job is to help folks grow, overcome, accomplish, realize results, achieve, and unleash their potential — which is all about growing and solving problems.
Write Website Content That Clients Love with These 29 Topics
To get specific about your coaching clients' struggles, worries, and challenges, I started a discussion in one of my coaching groups on LinkedIn.
I asked coaches about what their clients needed help with the most. From that chat, here were the hottest topics compiled into a list of 29:
1. Setting goals, clear, true to you
2. Staying accountable
3. Teaching them new skills, knowledge, or learning
4. Knowing yourself, how you got here, strengths, weaknesses
5. Give constant positive reinforcement
6. Identify and resolve blocks, pitfalls, self-sabotaging behavior
7. Connect/reconnect to the passion and purpose in their life/business
8. Creating a clear path, planning to achieve goals
9. Understanding the impact that clients currently possess
10. Challenging assumptions, beliefs
11. An honest assessment from someone with no agenda
12. Motivate them, a kick in the pants
13. Confidence building
14. Help in keeping things simple
15. Learning who am I, I'm ok you're ok
16. Relaxation, stress management
17. Taking responsibility for one's self, stop blaming or waiting
18. Say yes to what we want (wealth consciousness)
19. Know your numbers, measure results
20. Help them stop negative self-talk
21. Get clear on where to begin to change things
22. Maintain peace of mind, body, spirit
23. Challenge and change limiting beliefs
24. Challenge their ego vs heart-centered mind
25. Develop a positive mindset, better-thinking patterns
26. How to get around fear and doubt
27. Learning marketing and sales
28. Tactics to stay on top of all tasks (email, calls, tasks)
29. Replace old theories, assumptions
If you can hold your visitor's attention, teach them a few things, and speak to their needs so that they are better equipped to solve problems, they'll see YOU as the trusted, talented coach that they need to hire.
How much easier would those initial-meeting calls be if potential clients were essentially pre-sold by your website and eager to talk to you?
The Coaching Website Guide focuses on writing website content to get visitors excited about working with you. It's based on a strategy I've used for my business and with coaches.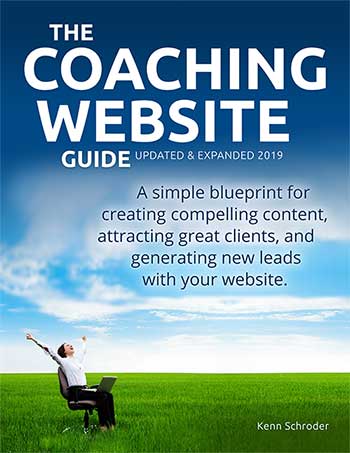 Two simple ways to write website content with these 29 things …
Way #1: Write blogs about the 29 things
You can write simple articles on any of the items in the list by choosing a title as simple as this: The Key to [insert any of the items in the list].
Some examples:
The Key to Changing Limiting Beliefs
A Simple Way to Stay on Top of Your Tasks
The Secret to Staying Accountable
As you can see, I like going for one thing, one key, or one idea that you can speak about deeply.
This works well for new writers and bloggers.

Also, you can make the articles even more special tying them more specifically to your clients' challenges in relationships, business, health or career, like this:
The Key to Changing Limiting Beliefs About Marketing
A Simple Way to Stay on Top of Your Marketing Tasks
The Secret to Staying Accountable to Get Marketing Done
For more keys to great titles, see Santa's MV Technique for Email Subject Lines that Get Clicked.
For more ideas to write blogs easily, check out How to Write 10 Great Blogs Fast – The Mistakes Method.
Way #2: Include the 29 things in your offers
When you outline how your coaching services work (e.g. your 1-on-1 coaching), use items from the list of 29.
For example, for a marketing coach working with insurance brokers who want to grow their book of business (sales), you could write this on your coaching services page:
As you use can see, not only do I use the 29 things (the bold parts), but I also relate them to client desires (the italicized parts).
Can you see how exciting that content would be for these brokers?
Definitely use these 29 topics, some of them, in your various programs, services, and offers.
Speaking of real-life examples, I share tips from my current work with subscribers on my email list. You might want to hop on that.
Lastly, here's my trick to 5x your website writing efforts if you participate in discussion groups.
The trick is to start discussions in groups where potential clients hang out. This gives you writing ideas, builds your credibility, and drives traffic.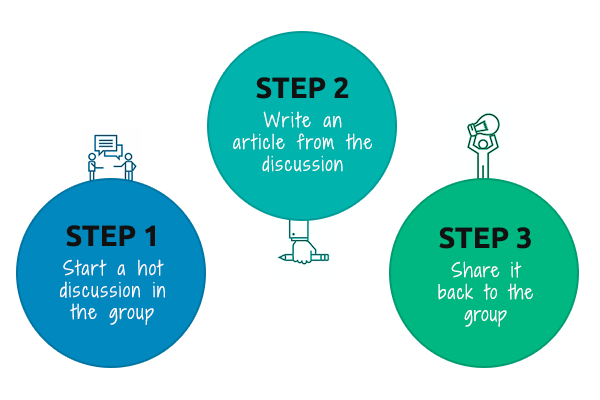 For example, to write the article you're reading now, I started a discussion in a LinkedIn group where my potential clients (coaches) hang out.
I asked them, What are the top things your clients need the most help with?
When I did this, a discussion ensued, and I got a huge list of ideas, which were distilled down to the 29 above.
This approach benefitted me in 5X ways:
The ideas came from others, so I didn't have to spontaneously "be smart."
People (aka potential clients) got to know who I am and what I do.
My credibility and expert status went up in those groups.
When I shared the article later, it drove traffic to my website for more subscribers, client leads, and book sales.
It was fun. I brought people together. We learned, laughed, and shared. That's rock-solid marketing.
You can do the same.
Here's what the discussion starter looked like, by the way.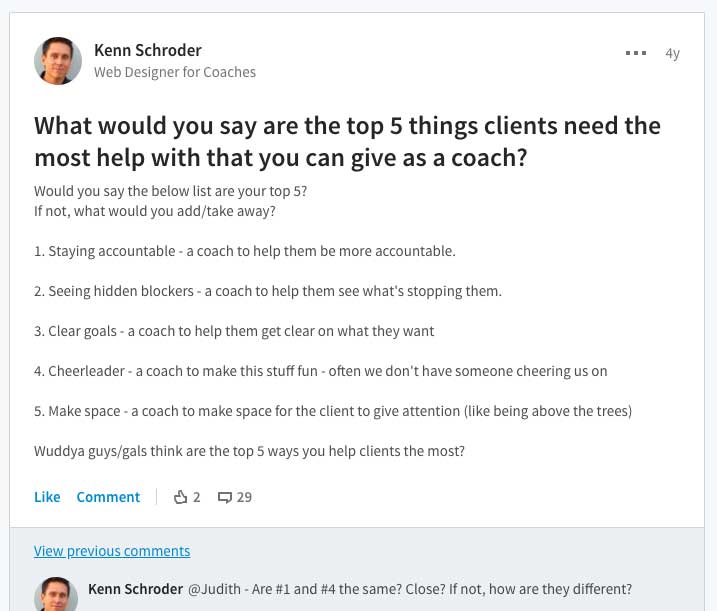 I did pump the discussion with further inquiry to mine for more ideas.
When you write website content, remember …
Remember that when you write about coaching benefits (keeping folks accountable, setting good goals, gaining clarity, raising awareness), don't forget client benefits like find a dream job, lead effectively, overcome physical ailments, increase sales, and finding lasting love.
COACHING BENEFITS + CLIENT BENEFITS = AMAZEBALL COPY
Mix the two, clients will be drawn to you.
Pick out some things from that list of 29 above.
You want a great website, right?
To solidify learning, tell me, in your words, what's hitting home for you? What's making sense? What's an idea that will help your content?
I love hearing from coaches around the world. So, if you post, I'll respond, and you'll earn a spot on my favorite people list 😉
SEO TIP! And hey, if you include your website address in the comment, you'll get a little boost for your website related to the term "coaching."