How do you write website content that engages and excites visitors and ultimately leads them to contact you for coaching?
It's such a great question and let me share with you my findings that have worked for both my little website design business and for the coaches I work with.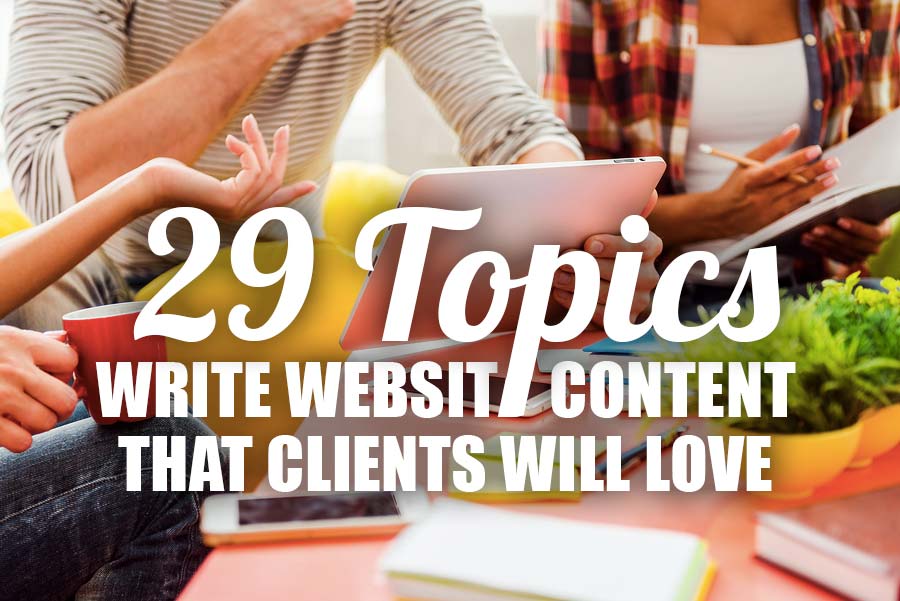 In this article, you're getting …
A human behavior lesson to get people to perk up
The 29 topics to help you write website copy clients will love
My two approaches to boosting your copy right now
A personal trick to 5X your writing efforts
Hey, if you find that putting words on paper is harder than pulling out your own teeth (sorry about the visual), you should check the book I wrote about coaching websites called The Coaching Website Guide.
What Human Behavior Tells Us About Writing Website Content
I've read many books on human behavior, marketing, habits, motivation, productivity, and more and there's one common notion about us humans that makes use perk up, pay attention, and pursue things (which is fodder for writing website content).
We will always have problems.
Like many psychologists, behaviorists, and researchers have discovered – we humans are hard-wired to notice, find, and basically seek out problems to solve (challenges to overcome).
On one level, we face (well, back in the day) a survival problem of avoiding lions, not starving to death and escaping volcanic eruptions.
When life-or-death is not an issue, we want to learn about how the world works, how to build things and discover new lands.
Higher up, we want to feel good, grounded, connected, enlightened, and "happy."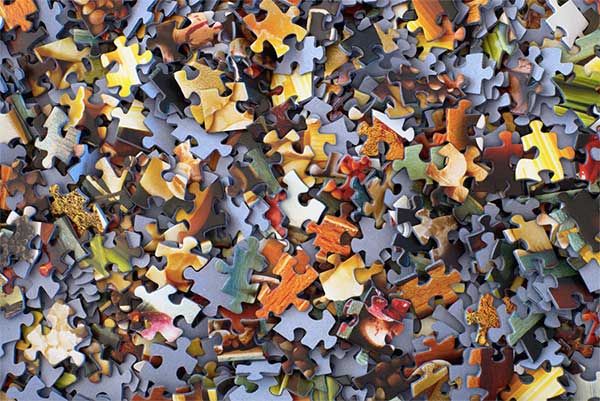 I've also noticed that when it's been a while since I've actively worked on a project or problem I start to get mental stress about things like purpose in life, meaning of existence, and the likes – yet another problem – a problem of not having a problem to solve. 
And all of this struggle-stuff is FANTASTIC food for website fodder!
That works out perfectly because as coaches, your jobs are to help folks grow, overcome, accomplish, realize results, achieve, and unleash potential – which is essentially problem-solving.
Humans were born to solve problems and coaches are catalysts.
Write Website Content That Clients Love with These 29 Topics
To get specific about the struggles, worries, and alert-triggering-topics that your coaching clients face, I started a discussion in one of my coaching groups on LinkedIn.
I asked coaches about what their clients needed help with the most. From that chat, here were the hottest topics compiled into a list of 29:
1. Setting goals, clear, true to you
2. Staying accountable
3. Teaching them new skills, knowledge, or learning
4. Knowing yourself, how you got here, strengths, weaknesses
5. Give constant positive reinforcement
6. Identify and resolve blocks, pitfalls, self-sabotaging behavior
7. Connect/reconnect to the passion and purpose in their life/business
8. Creating a clear path, planning to achieve goals
9. Understanding the impact that clients currently possess
10. Challenging assumptions, beliefs
11. An honest assessment from someone with no agenda
12. Motivate them, a kick in the pants
13. Confidence building
14. Help in keeping things simple
15. Learning who am I, I'm ok you're ok
16. Relaxation, stress management
17. Taking responsibility for one's self, stop blaming or waiting
18. Say yes to what we want (wealth consciousness)
19. Know your numbers, measure results
20. Help them stop negative self-talk
21. Get clear on where to begin to change things
22. Maintain peace of mind, body, spirit
23. Challenge and change limiting beliefs
24. Challenge their ego vs heart-centered mind
25. Develop a positive mindset, better-thinking patterns
26. How to get around fear and doubt
27. Learning marketing and sales
28. Tactics to stay on top of all tasks (email, calls, tasks)
29. Replace old theories, assumptions
If you can hold your visitor's attention, teach them a few things, and speak to their needs so that they are better equipped to solve problems, they'll see YOU as a trusted, talented coach that they need to hire.
How much easier would those initial-meeting calls be if potential clients were essentially pre-sold by your website and eager to talk to you?
The Coaching Website Guide is mostly focused on writing website content to get visitors excited and leading them to contact you for coaching. It might be just what you need if finding the right words has been tough.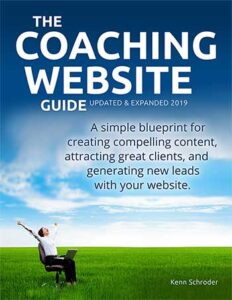 Two simple ways to write website content with these 29 things …
Way #1: Write blogs about the 29 things
You can write simple articles on any of the items in the list by choosing a title as simple as this: The Key to [insert any of the items in the list].
Some examples:
The Key to Changing Limiting Beliefs
A Simple Way to Stay on Top of Your Tasks
The Secret to Staying Accountable
As you can see, I like going for one thing, one key, or one idea that you can speak about deeply.
This works well for new writers and bloggers.

Also, you can make the articles even more special tying them more specifically to your clients' challenges in relationships, business, health or career, like this:
The Key to Changing Limiting Beliefs About Marketing
A Simple Way to Stay on Top of Your Marketing Tasks
The Secret to Staying Accountable to Get Marketing Done
For more keys to great titles, see Santa's MV Technique for Email Subject Lines that Get Clicked.
For more ideas to write blogs easily, check out How to Write 10 Great Blogs Fast – The Mistakes Method.
Way #2: Include the 29 things in your offers
When you outline how your coaching services work (e.g. your 1-on-1 coaching), use items from the list of 29.
For example, for a marketing coach working with insurance brokers who want to grow their book of business (sales), you could write this on your coaching services page:
When we work together, we will …
* Set clear, exciting goals that will motivate you to bring in more sales.
* Create new thought patterns that give you the confidence to make sales calls.
* Overcome hidden blockers that make you hesitant so you can network more effectively and generate leads.
* Keep you accountable to get things done so that your numbers go up, including profits.
As you use can see, not only do I use the 29 things (the bold parts), but I also relate them to client desires (the underlined parts).
Can you see how exciting that content would be for these brokers?
Lastly, here's my trick to 5x your website writing efforts if you participate in discussion groups.
The trick is to start discussions in groups where potential clients hangout to both fuel writing ideas, but also build your credibility and drive traffic.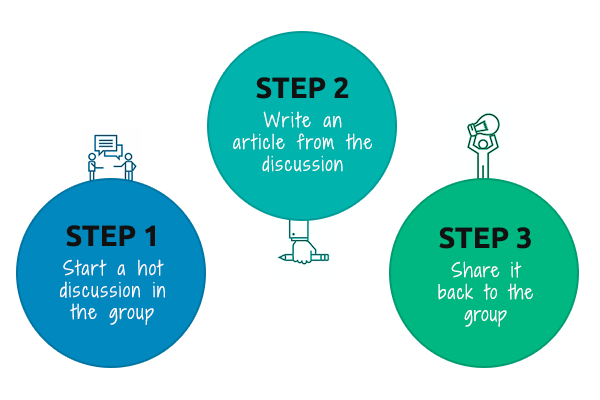 For example, in order to write the article you're reading now, I started a discussion in a LinkedIn group where my potential clients (coaches) hang out.
I asked them, What are the top things your clients need the most help with?
When I did this, a discussion ensued, and I got a huge list of ideas, which were distilled down to the 29 above.
This approach benefitted me in 5X ways:
The ideas came from others, so I didn't have to spontaneously "be smart".
People (aka potential clients) got to know who I am and what I do.
My credibility and expert status went up to those in the group.
When I shared the article back, later on, it drove traffic to my website which is huge. It turns into likes for the article, comments, subscribers, and client leads.
It was fun to do because people came together. When your work is fun, it gets done.
You can do the same.
Here's what the discussion starter looked like, by the way.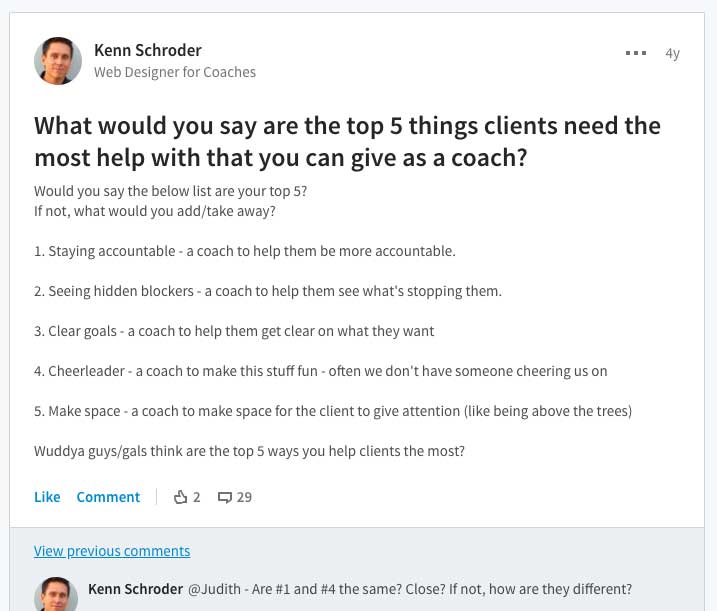 I did pump the discussion with further inquiry to mine for more ideas.
When you go to write website content, remember this …
Your soon-to-be clients want to overcome their challenges and realize their goals.
When you write website content about succeeding, clients feel that you can help them. Clients are drawn to you.
Use that list of 29 above in your writing.
Hey, what are you finding useful here? Post a comment, it'll make my day.
It tickles me pink to hear from readers because it means my writing has helped you – and to serve others is the greatest good.
So, if you've found this article handy, please hit the like button, and take a second to post below with a simple thank you, any thoughts or questions.
Oh and be sure to include a link to your website for a little boost in your search rankings.