Your core message is a short 1-2 sentence write-up that tells what you do in a compelling way. It's like an elevator speech or your 30-second intro often used in networking groups except this is for your website.
Many coaches build their websites without any thought to this and they end up creating a mess. They create websites that have no central theme, where colors and visuals are all over the show, and the content is either lacking, confusing or boring.
Here's a video to walk you through steps to create your core message.
If you've followed along in the video, go ahead and post your drafted core message down below in the comments. I'm watching them actively.
Five ways to tidy up your drafted core message
1 – Get others to read it.
Ask them for their opinion and tweak your message. You'll often find that you're too much in your own head when it comes to talking about what you do. Others will steer you back to talking about client interests.
2 – Don't use clumsy phrases.
I've found coaches love their concept talk. They love to come up with phrases by finnegaling words and spelling like inspirnation to mean something like inpsired nation or lovergy for love + energy. But stuff that's really out there just confuses people.
3 – Centralize your message.
If you seem to speak to many challenges in your core message, try aiming for a central theme that covers them all.
For example, if your high-powered executive client, your forever-single client and your client with health issues are all struggling with low energy, consider basing your message around boosting energy for work and life.
4 – Use scrumptious, hunger-inducing words.
Which is more exciting, a "sports car", or a "brand new, 2016, candy-apple red corvette convertible"?
While both may refer to the same thing, the second one is mouth-watering.
Where possible, paint a vivid picture of the struggles, the pains, and the dreams and desires.
5 – Speak your core message out loud 10 times fast.
Often, their first go at their core message ends up wordy and clumsy and they need to smooth it out.
If you can speak your message out loud, without hesitation, and get three friends to do so as well, then you're doing fab.
An example of trimming down your core message.
I know coaches love words, concepts and they want to get everything into their core message.
But I encourage you to make it nice and tidy.
For example, here's Emily Archer's first draft of her core message …
I help people living with diabetes who are frustrated and ashamed of their inconsistent lifestyle choices to reclaim control, health and self-respect. My passionate curiosity will help you create a powerful vision, a culmination of your now deep-rooted healthy lifestyle habits. In partnership we will develop a personal lifestyle management strategy that empowers you to master new habits and focus your energy to achieve and sustain lifestyle improvements you are proud of, for longer, stronger living.
As you can see, she has some great ideas and concepts she wants to include. It's common to make your core message big like this.
After some work with and feedback, here's what it became …
I help people living with diabetes who are struggling, frustrated and overwhelmed. I will partner with you to create lasting strategies that increase your energy, build your confidence and return your zest for life!
As you can see, it's much crisper, stronger.
Your website visitors and clients will appreciate it.
Watch how Denis's website comes to life with a well-crafted core message.
Below is a website I reviewed and tweaked to improve it's attraction for Denis, a career coach for expats.
The before – typical kind of coaching website: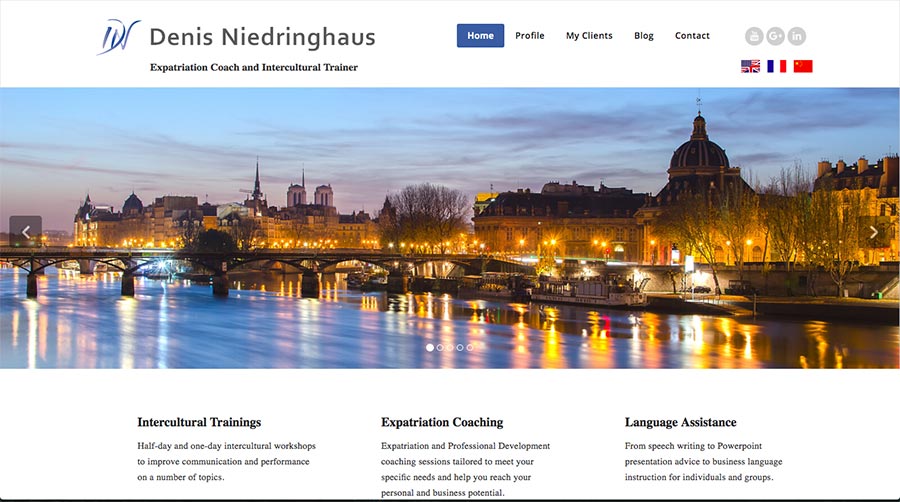 The after with his core message and his face prominent: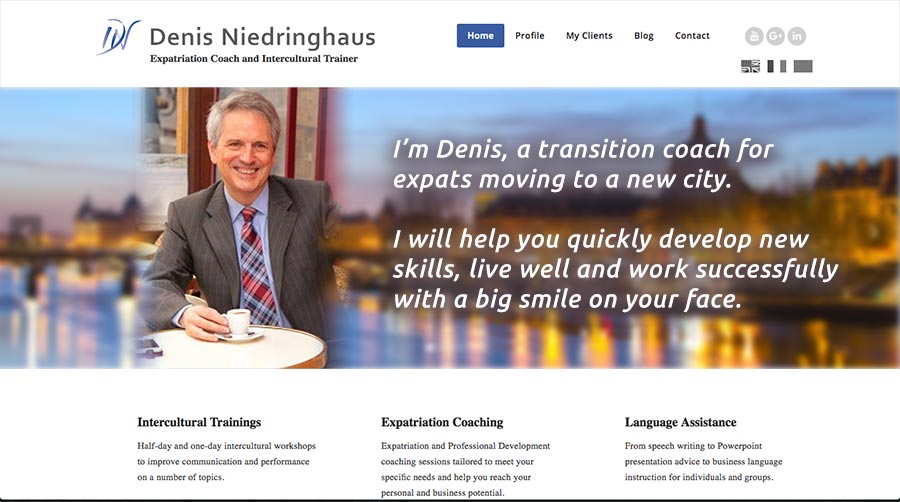 Three examples of good core messages from work with clients.
I'll help you beat the cravings, plan easy meals, and burn belly fat – even if you're a lazy bum who has never cooked a meal in your life.
I work with mechanics, repairers and painters who work long hours but never seem to get ahead. I help you implement simple strategies to work fewer hours while increasing profit so you can pursue exciting projects and spend more quality time with your family. 
Is it frustrating and stressful to live with diabetes? Let me help you create lasting lifestyle strategies that minimize the pains, increase your energy, and boost your zest for life.
Here's a recent website for Rachel Hill. See how we created an engaging opening statement, front and center on her home page.
Rachel's core message on the top of her home page asks visitors to learn about how she can help. If you look closely, you'll be able to see that it's all about the client who is stuck and wants to have work they are eager to get to.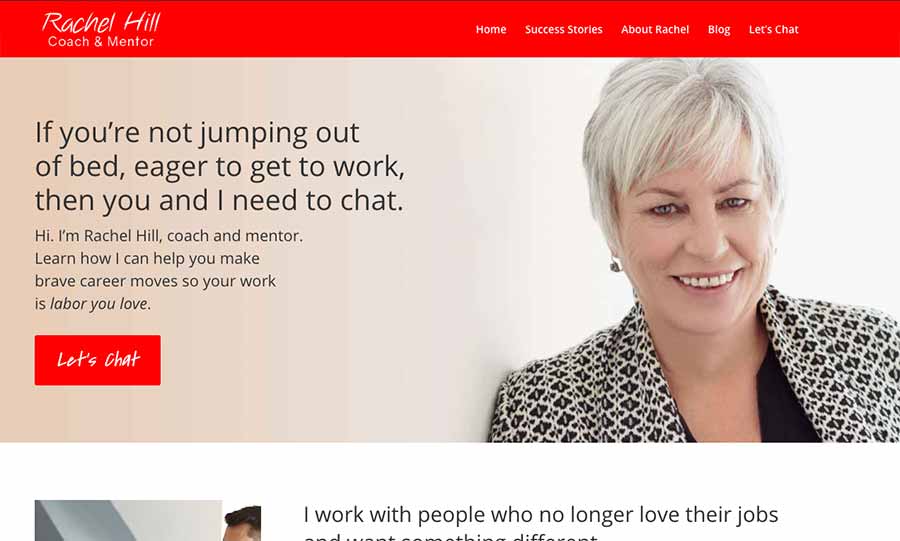 And finally, a quick note to make for when you do go out and start on your website -> Get your core message above the fold.
It's poo-poo if you go through the work of creating a great core message but fail to put it front and center on the home page of your website.
Shown below is the area of your website people first see when they arrive. This is called "the fold".
Make sure your core message shows up prominently there.
It can be in the tagline or as a headline.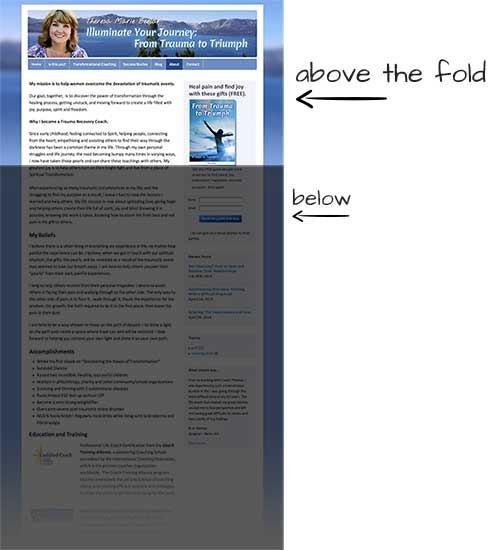 Excited? Eager to take the next step? Well ok then. Go grab a super domain name with this tutorial.
How to Find the Perfect and Available Domain Name and Quickly Setup WordPress
---
Post your core message down below.