About Me Pages That Visitors Love
Check your stats, and you'll find the second most visited page is your About Me Page (the homepage is first).
This is because people want to know, Who is the wizard is behind the curtains? And especially, Why should I work with her?
Your About Me Page can be a powerful tool to build trust and connect deeply with people if you approach from the right perspective 😉
In this post, you'll get my top four tips for writing an About Me Page that visitors will love.
If you want tips and strategies for your website as a whole, The Coaching Website Guide might be handy.
Here we go …
Tip #1. Forget About Yourself, and Think About Your Clients
That's right!
It would help if you didn't start by thinking about yourself first — your favorite quotes, your pets, or anything else that fascinates y-o-u.
Instead, take a moment and think about your clients — your best kinds of clients, for they are the ones you need to impress.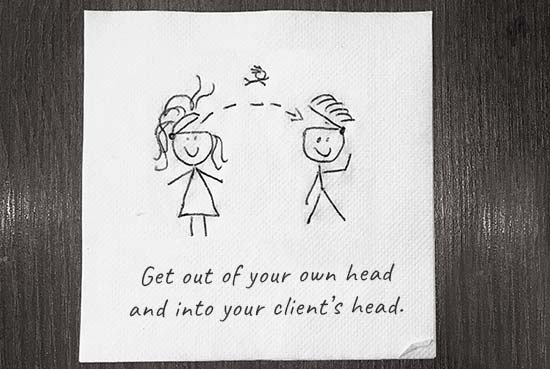 Start by thinking about a specific individual (called a persona in nerd-circles) and being ultra-specific about who they are.
KENN INSIGHT: Interestingly, when you write with a single ideal client in mind, the not-so-perfect-fitting-clients will also like it because it'll be clear — much better than if you try to write for everyone.
So, let's find that specific, special someone. Think about your past clients …
Who has been one of your most favorites?
Who would you love to more of as clients?
Who did you look forward to coaching each week?
Who have you made great progress with?
Who has been able to pay your fees?
Got some folks in mind? Pick one, and then ask yourself …
What are his/her biggest frustrations, challenges, and needs?
What does he/she value in life, work, or relationships?
What did he/she find incredibly helpful in your work together? (empowerment, motivation, confidence, attitude, honesty, comfort, clarity, other)
What drew them to you in the first place?
What did they like best about you as a person?
If you have a testimonial, feedback, or a review from him/her, then whip it out and keep it in front of you as you write this page.
If needed, call him/her up and have a chat. Who knows, they might even sign up again as a paying client.
Can you identify the few things he/she found most valuable in working with you? This is the GOLD you're after.
Here's an example …
KENN TIP: I love starting an About Me Page with a short write-up about this ideal client and the value they stand to gain by working with you. I call this your core message.
Here's a screenshot of the top of Carol Leek's About Me Page, where you can see her core message.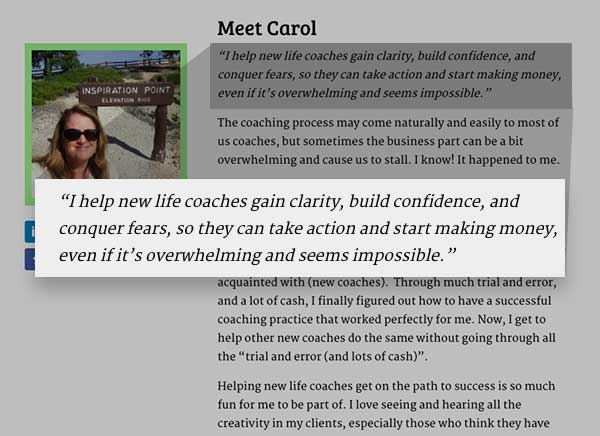 Does that feel powerful to you? If so, then you're likely similar to her best client. You can see her message hones in on confidence.
I know Carol personally, and she's a very positive, energetic, motivating person. So, it's no surprise to me that her message turned out this way.
So, remember this first tip: forget about yourself and think about that great client you'd love to coach. This will make writing easier for you and exciting for your visitors.
Tip #2. Share Your Big Inspiring WHY for Becoming a Coach
People care more about WHY you coach than HOW you coach — or even what you do, as Simon Sinek explains in his famous TED talk (I make clients watch this when drafting their About Me pages).
Questions to help you express your deepest WHY:
What motivated you to become a coach?
What do you love most about coaching people?
Was there a special moment in time when you just knew you had to become a coach? What were the specifics of that moment?
What's so amazing about coaching?
How did you first discover coaching?
How did you transition into coaching?
What hard decisions have you made in life so that you can pursue coaching?
Have you had a coach before? If so, what did you LOVE most about your work together?
Got a heap of ideas written down? Great!
KENN CHALLENGE QUESTION: Can you tie any of your big WHY ideas with discoveries about your best kind of clients from tip #1? If so, that'll be amazeballs.
Clients love coaches who are excited about their work. Bring out your big, passionate WHY for what you do, and let 'em have it on your About Me Page.
Tip #3. Talk About Your Positive Beliefs, Deepest Values, and Life Lessons on Your About Me Page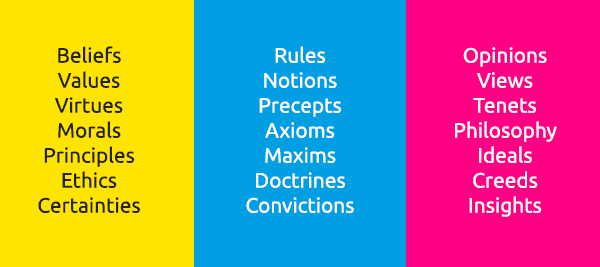 People are drawn to others who have similarly strong, positive beliefs and values. So, telling stories about life challenges and the lessons learned is amazeballs for connecting deeply.
For example, if you are a relationship coach and family is a top value for you and your clients, then talk about it. Clients will feel like they've known you forever.
More ways to form tight bonds with clients in your writing:
Tell what's unique about your coaching skills and how it's valuable to a client
Share a life experience that helps you coach better — pointing out why it's good for clients
Tell what you believe to be true about people, growth, success — and how you use that wisdom to coach your clients
Share a story about failure and what you took away from it — and how this translates to good coaching
Furthermore, sharing deep stuff about yourself shows transparency, vulnerability, and acceptance — attractive qualities for clients who will need to trust you to open up.
Being guarded, closed, or afraid will make visitors respond in kind and resist you. That's bad for biz.
A great About Me Page will win their hearts and get them to get in touch with you. Folks love the step-by-step writing guides for coach bios in my big book, The Coaching Website Guide.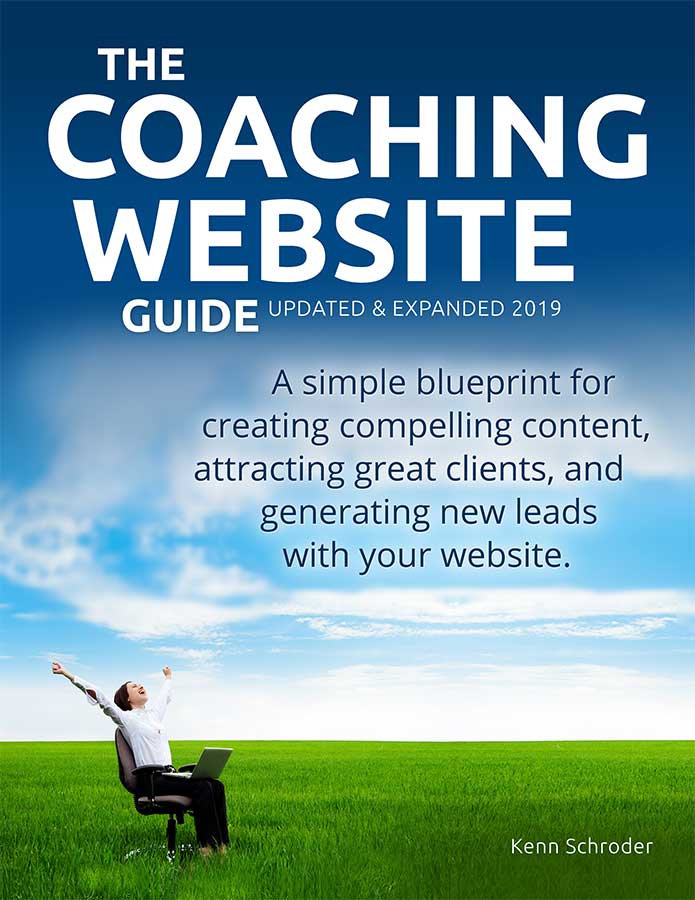 Tip #4. Highlight Value Everywhere on Your About Me Page
Whatever you add to your About Me Page, point out WHY those things are precious to your clients (remember your bestie from #1 above?).
For example, if you're trained in walking meditation, definitely tell a little story of how this lead to a major break-through for one past client.
More content ideas (just pick among the best relevant ones):
Credentials
Coach training
Special roles you've held
Schoolings
Media mentions
Places you've been featured
Guest appearances
Speeches or videos
Awards or recognitions
Podcasts
Books or published works
Accomplishments (marathon?)
Blogs or articles
Major life challenges that you overcame
A related activity like doing yoga if you're a health coach
Two quick examples of choosing the right stuff…
My client James Saliba, a leadership coach in tech (link opens in a new tab), earned Top 100 Leadership Experts on Twitter for his wisdom. We definitely noted that on his About Me page and added a little visual image to show it on the homepage.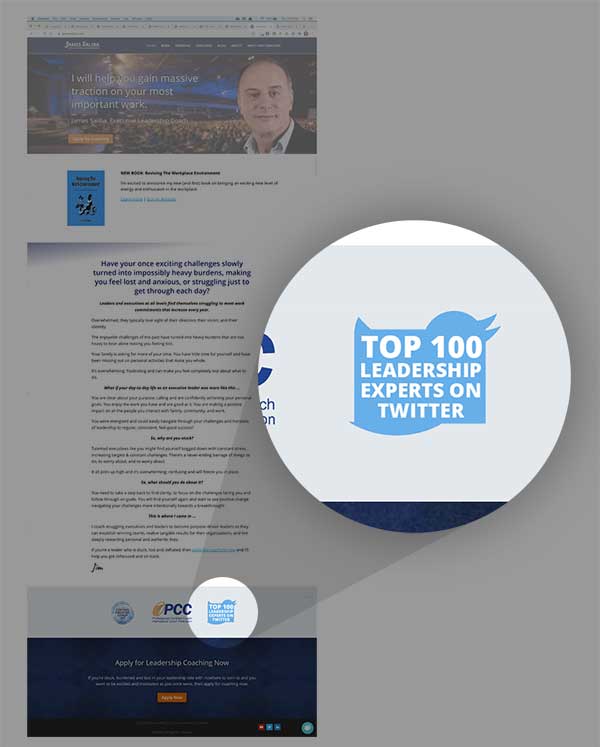 Example 2 …
Another coaching client, Lisa who helps women at mid-life (link opens in new tab) make a fresh, new start. She is certified in Brendon Burchard's High Performance Coaching, and we duly noted that on her About Me page, along with a little credibility image on the homepage show below.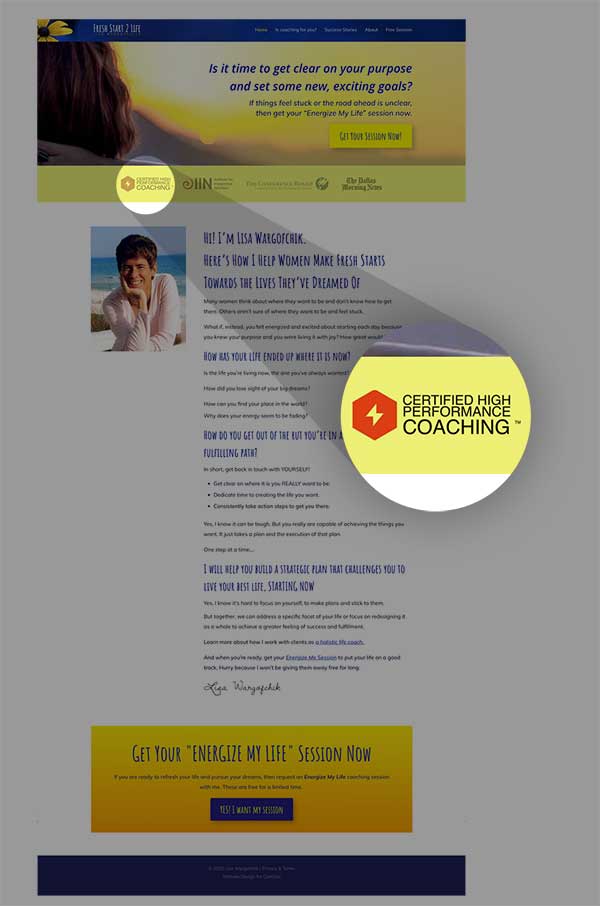 Remember to think back to tip #1 (to focus on your best, ideal client), and then choose which content would be great for your About Me Page.
It's like customizing a cover letter and resume to a specific you apply for.
This is in no way false, salesy, or boastful. It's helpful, time-saving, and serves your visitors by giving them your best.
So, share your successful business ventures if your clients are budding entrepreneurs and skip that home-made paleo protein cookie recipe you created.
And if you're a sports performance coach, tell the tale of how you came back from a car accident to win a gold medal and save that best-selling author award for another day.
More About Me Page Examples
Mary Rosenbaum (past client) – I like how she mixes in her recruiting career to build credibility on her About Me page. Her website was from about 10 years ago, one of my first clients.
---
Graeme Owen (past client) – Great story of how he became a builder's business coach, being the son of a builder. This guy is part of the reason I ended up in New Zealand.
---
Ash Ambirge's Bio from TheMiddleFingerProject. I like her Notes of Interest section as it's very readable, fun, and interesting. The other areas are a bit noisy but full of life. I'm sure it's her brand.
---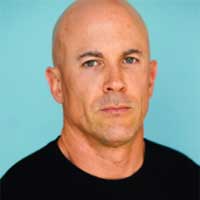 I like the short paragraphs and the direct writing style of Joe Ferrugia, a muscle-fitness-strength guru. It opens with a short sentence about what he does for his clients – nice! See his page here.
---
The Key Point When Crafting Your About Me Page
I'm not the only guru who says this 😉
My homey EG Sebastian, who started The Coaches Support Group (link opens in a new tab), the biggest group for coaches on LinkedIn, and long-time mentor to coaches, says it like this …
"I'd say the key is to talk less about yourself – at least in the first paragraph or two – and more about WIIFM – What's in it for them? – How can you help the client?
---
"Keep every story in the context of the reader. What will they gain from reading it? If you can't answer that, don't include it" is what Jessie Lewis wrote in her article, How to Write an About Me Page that Actually Makes Sales.
---
"The about me page is more than a picture of you and a couple of sentences about your site. It is more than saying, "I love to talk about pink unicorns and fluffy pillows. You can email me here." It needs to sell you as someone who will trust you and will become that die-hard, loyal fan."
---
Let's see if you've been paying attention, ahem …
Hearing from readers puts a smile on my face and pep in my step.
So, I challenge you to tell me, What's one idea for content that you could put on your About Me Page — a piece of content you KNOW will be valuable to your best kind of client?
(Highway bribery: Don't forget to add your website link in your comment. It'll help associate your website with the term "coach.")