Key Notes as Mary Franz Built Her Own Website Fast
Coach Mary Franz, who helps people navigate to find meaningful careers they'll love, is a student in my great coaching website course and she recently finished her website.
Here are three things you can learn from her work …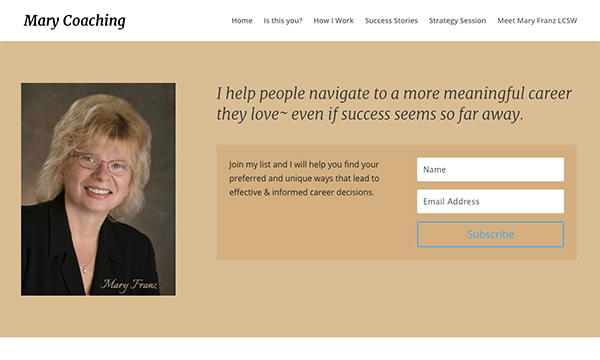 Her website is at Mary Coaching. She's great and I would not hesitate to send referrals to her. 
Key note 1: What if you don't have a niche?
One thing Mary chose to do early on in the course was to narrow her message.
This is a tough move for many coaches.
But Mary was willing to embrace what I suggested to her about niches and websites which is to get online quickly with a site that invites people to take action and see how people respond.
That is, test your niche.
And we did just that, and she started getting action: leads, referrals and a speaking opportunity.
I expect that some continued effort and refinement, she'll be full of clients, good ones, in no time. Or at the worst, she'll know if her niche is not ideal.
Key note 2: Asking clients to help with your core message and success stories.
During our work, I challenged her to contact clients right away … even cutting one of our calls short so she can start dialing.
And it worked – magnificently.
She got some great success stories as you can see at her site.
Even though at first we may not be so hot to ask clients for recommendations, we must do so to market well. And clients are almost always happy to help out.
Just make sure you structure your success stories smartly – like using the chicken scratch diagram for coaching websites.
Key note 3: Overcome the resistance to share the word about your coaching.
Since Mary elected the premium course option (with 1 on 1 help from me), we got her to take ultra simple, but often resisted, steps to share the word about her website and her coaching.
As I mentioned above, we got the word out and started generating new client leads and potential referral sources.
Yes, awesome!
You MUST get out there and tell people about what you do …
Remember, there are so many people out there who will think an angel was sent when the discover you. Your job is to get out there (market) so they can find you. When you do so, you help them get that priceless "when the student is ready, the teacher will show up" magical moment. 😉 ~ Kenn
Mary's comments about the course …
What did I love about this course?
I finished it!! My website was built in 30 days! Got to LOVE that….and here's the combination of reasons for success:
1) short, instructive videos that I could watch, pause and replicate;
2) a SPECIFIC date I committed to finish and POSTED in FB;
3) a promised counter challenge by Kenn with fabulous rewards for launching at the specified date;
4) Kenn's availability by FB, email and posted hours to respond to issues as well as his super willingness to go into my website when I was stuck and "solve the problem" (the "cool dude" at work) and
5) the 1:1 phone times with Kenn who did some pretty effective challenging that worked (like take the next 15 minutes and send a text/email to three clients and ask for feedback about your core message or post a rough draft on FB and ask for group feedback!)
The combination WORKED!!
I have a website that is fresh, modern and simple. Super value. Thanks Kenn.
Stuck on your site? Need more coaching clients? Want a website that you'll be excited to share? Then you may be a prime candidate for the course, Build a Great Coaching Website. You get 20 steps, videos, tech help, and all kinds of hand-holding whether or not you were born with the techie gene.
And there you have it – three key notes from Mary's website project: build a niche-flexible website quickly and test, ask clients to help you with your content, and get out there and share your coaching so the right clients can find you.