How to Reach Thousands of Potential Clients This Weekend
If you're starting a new coaching business, just launched (or revamped) your website, and need traffic, or if you have no web presence at all and want to get a handful of new potential coaching clients, then this article is for you.
Let me share a story of one of my super-star students, Mary Franz, who carried out a simple but highly effective visibility strategy to secure two new clients right away.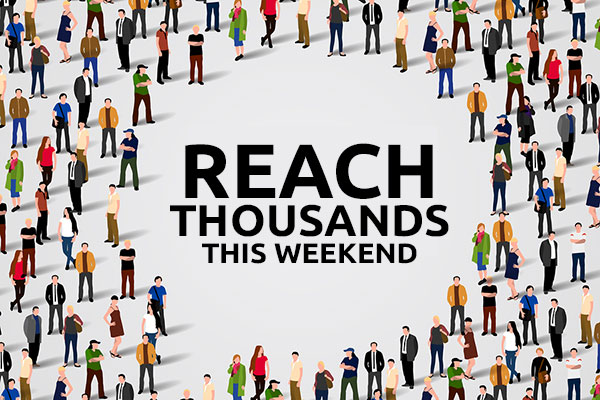 I love going through this process with the coaches who launch new websites. I call it, The Reach Thousands This Weekend Challenge.
It's a great way to start or revive your marketing engines.
First, a Few Notes About "Getting New Coaching Clients"
The saying, "people buy from people they know, like and trust" is so true.
Whenever I meet new coaches (or any service professional), I ask about where their first coaching clients came from. It's almost always someone they knew, who liked them, and who trusted them.
And, if you think about it, would you pay high hourly fees to someone you didn't know, didn't like, or didn't trust? I doubt it.
The first batch of clients that nearly all coaches obtain were friends, colleagues, or past associates. As such, these new coaching clients were in the coach's immediate network or at most one connection away.
The second truth about getting clients, is that there must be a big struggle, need, goal, or desire.
People won't invest their hard-earned cash in coaching, if there's no need for it, EVEN IF they do know, like, and trust you.
Thus you'll need to meet folks with a big need — or uncover one.
If you have a coaching specialty, a niche, you can focus on certain challenges within your area of focus as you reach out to people. Otherwise, you'll need to get conversations going to find them.
The third thing is that there are already thousands of people who you can reach and these have folks a greater-than-zero score on your know-like-trust meter.
If I look at all of your connections on LinkedIn, your friends on Facebook, your email contacts, your past coworkers, your family, and real-life friends, we can probably get to at five hundred people.
Then, consider other pools of people who know of you — local associations, clubs, alumni groups, sports groups, and schools you've attended. That'll easily grow to several hundred or more.
In 30 minutes or less, I'm confident, we can come up with over 1,000. For many, that'll easily get over 2,000.
To further reach out, if you ask just a few of your closest friends to share your name on your behalf, that'll easily add hundreds to thousands more.
Though these folks won't know you directly, the referring friend will provide the know-like-trust kudos.
Here's What You've Got Thus Far …
Here are the three truths about getting clients:
Start your outreach with people who already, like, and trust you because that's where most coaches get clients at the start (and often it's the only means)
Find or uncover ones with big needs that you can help them with. They must have a pressing struggle or an important goal in order to commit and invest.
A list of these people from all your life's connections will easily reach over 1000 — though we won't need them all.
For you, is this fair enough to accept as true?
Here's What Mary Did to (And She Only Got to 20) Secure Two New Client Right Away
Mary is a career coach, and she was a student of my course and she built a career coaching website in 2018.
Her website was well-equipped to engage clients, showing the value she brings (credible, professional), and leading clients to request a session with her. She also had an email list for those who did not have a need currently (this brings new clients into the future via email marketing).
She also had a free giveaway and a few blogs that built up her image as a true pro.
New Client #1 came in from her past.
Mary touched base with a woman she knew a long while ago via email. This woman had a big need, checked out Mary's website, and quickly got on a call with Mary and became a client.

New Client #2 came from an online profile.
Mary updated her online profiles to include a link to her website. A young female discovered Mary's profile, visited her website, and then signed up on that first call.
This woman was in a new role to set up a new branch for a very large firm and needed a warm, safe coaching presence to help her through some immediate challenges.
That was two clients, right away, after launching her website and getting the word out.
Where Does Having a Great Coaching Website Fit Into All Of This?
You may be wondering, Kenn, you're a web designer. If you're telling me to get clients by messaging my network, Why would I need a coaching website at all?
You don't actually "need" a website.
You could run screaming down the street with "hire me as your life coach" tattooed on your back and try to get clients that way.
You could give talks to associations and sign up new clients right on the spot.
You could do a podcast or webinar, and secure new clients that way.
You could join social groups online and work the crowds in conversations to get new clients.
You could sign up for a coach-client match service.
You could write articles for a magazine and leave your phone number there.
Everywhere you put your attention online, you'll see someone saying "you don't need that, you need this" and that's probably where your alert system fires off with another, "Uh oh!"
You don't need marketing. You don't need to get incorporated. You don't need social media. You don't need an email list. You don't need a laptop. You don't need a bank account. You don't need Zoom. You don't need a business card. You don't need sales skills.
You don't need a lot of things — but you DO NEED SOMETHING!
Clients aren't going to show up if they don't know about you. They won't engage with you if they don't like you — and they definitely won't hire you if they don't trust you.
That's worth repeating in style …
You do need to do something to get coaching clients which conceptually comes down to:
Get visible
Engage people
Build your credibility
Gain trust
Make an offer that clients will say yes to
Take payment
Repeatedly secure new clients
All of this stuff takes time, takes effort, takes refining, takes doing.
Your website COULD BE a very handy tool for getting clients because it hits on many of those bullet points above, such as:
Getting you visible in many ways
Instant high credibility if done well
Gaining trust in may ways – testimonials, articles, credentials
Growing a list of people you build trust with for easy future clients
Reaching new clients without that awkward, clumsy, spammy salesy approach you've come to hate
Getting leads faster
For many newbie coaches, their websites are a massive credibility (and confidence) booster that gets them out there in a big way and brings in those first batch of clients.
Just imagine any conversation about working together and the potential client goes to check you out online or asks about where they can learn about you. You'd be like, "Ummm."
I put my best tips for creating a credible, professional coaching website that engages and excites clients about working with you in The Coaching Website Guide.
Here's How I Could Reach over ONE HUNDRED Thousand — In a Weekend
Yes, I'm much further ahead in connections and visibility than you likely are.
My Email List – About 3,000 living breathing, active emails.
My LinkedIn Connections – Another 3,000.
One of my bigger LinkedIn groups – 80k+
One of my bigger FB Groups – 13k+
There are many more groups, associations, and lists that I'm in ~ over 50k easily.
I could ask closer friends to share with their networks on my behalf ~ over another 50k easily.
I could reach about 100k over a weekend, probably a couple of hours. These would NOT all be personal emails, but various posts and messages.
Now, not everyone is waiting to hear from me. They aren't always checking email nor surfing the Web. Further, many may not have need that I could help with. But many will see my message and many will need help.
Remember, most coaches and service professionals get their first clients from closely-connected, trusted family, friends, and colleagues. That's really the place to start before you go bigger, cast wider, and do this in a faster, simpler, more lucrative way (a story for another day).
The Key is Not To Be A Spammy Jerk When You Reach Out
Instead, be smooth, inviting, and respectful while you explore if there's a need.
You've probably been bombarded with highly-promotional emails before. It seems like they show up everywhere these days, even at gas station pumps. Gah!
I'm forever unsubscribing myself from email lists that I had never signed up for. It's pretty amazing and bothersome how much marketing goes on. Much is clumsy, forceful, and disrespectful of our time and attention.
So, you don't want to be rude and invasive in any way — which obviously hurts the "like" and "trust" parts of the trifecta.
What exactly to write or say is a big topic plus it will be very situational. But here are some tips for to the medium and the individuals you aim to make contact with.
But, I here are a few things that have worked:
When you reach out (phone, email, text, online, however) aim to warm people up to you, especially if it's been a while since you've been in touch.
Start with where you left off, how you know them, and aim to serve them in some way small – like just being curious if a close friend, offering a handy resource (your list, article, a group you run) if you have.
Move the conversation towards a phone call, naturally and intentionally, where you can offer to coach.
Once warmed up to you (responding), aim to uncover a need, a struggle, or a big goal they are after.
Realize that not everyone will work with you, so just work through the numbers, and enjoy the process.
If you have a great website (as I wrote about in The Coaching Website Guide) with a handy resource or freebie or article, then you're batting 1,000!
It makes reaching out much easier, you can reach more folks in mass, gain instant credibility as you position yourself attractively as a person who "serves."
---
To add a batch of new, pay clients to your coaching business quickly, reach out to and engage with those who already know, like, and trust you. Lead them from cold (no contact in a long while) to warm (a message within a week) to hot (they expressed a need in a video/phone call or in person). Being this defrosting with any interactions, online material, profiles, video, smoke signals — anything, and everything. Ultimately provide an invitation to work together.

Kenn Schroder
Yes, there's more to it, but essential, that's the process.
I wrote all about how to establish a credible, professional website to smoothly engage with folks, attract them to you, and get them excited about the idea of working with you in The Coaching Website Guide.
---
If You're Feeling Little Hesitant, Resist the Idea of Clumsy Self-Promoting, Here are Some Words of Wisdom …
There are so many people out there struggling with tough challenges, and when they discover you, they will think an angel came down from heaven.
Your job is to get out there and help them find you.
The longer you wait and more you hesitate, the more THEY will sit around struggling.
You love coaching, and that's valuable. This love for the art likely makes you good at it too. It's your duty to put your God-given talents to work in the world.
While it's noble to "serve others" and so rewarding as well, don't forget about your own dreams. Earning an income as the ability to work whenever and wherever you want is well worth it.
A big smile on your face means you show up even happier when you serve your clients.
I Love Hearing From Readers! Let Me Ask You a Question and Solidify Your Learning …
To sum it up in three bullets, this:
To get clients, you need to get visible and there are a lot of people who already know, like, and trust you that you could reach out to.
You'll need to get seen, engage them, and lead them to signing up with you — and that's work, a process, and your website can play a big part of that.
You owe it to people to (to your creator) to kindly and intentionally put the word out to serve others and take care of yourself.
You know I go ga-ga when an email comes in that there's a new comment on my blog 😉
So, to make Kenn's day, and to firm up your learning, What's one key thing you're taking away from this article?
Post below. I await!