Treat your business like a new-born baby and give it a great coaching domain name.
Your precious little bundle of joy should should have a name that sounds great to you, that people will love, and that rolls off the tongue nicely.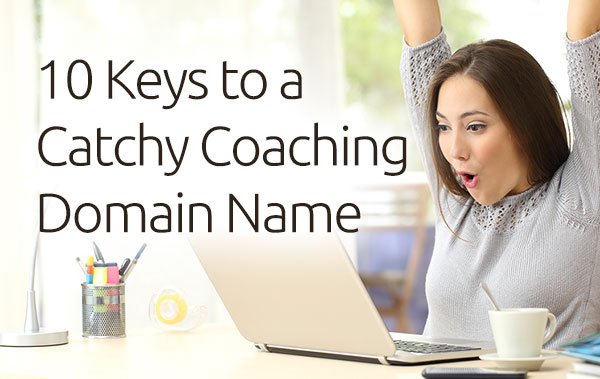 But, it can be tough to find a winner because:
so many good ones are already taken, and
it's easy to come up with too many ideas to choose from, and
if you choose a bad one, it will confuse people and hurt your marketing.
Don't worry, if you pay a little attention to these tips, you'll find a good one.
10 Keys to a Catchy Coaching Domain Name
Your coaching domain name may not hit all of these keys, but knowing them will do lots.
Key #1. Your ideal client thinks it's catchy.
You'll hear me say it like a broken record, your website is all about the client.
And so, the first key to a great coaching domain name is that it appeals to your ideal client.
Spend a little time thinking about that lucky guy or gal.
If working out your niche has been a bitch, then consider creating a persona instead.
Key #2. Choose a domain name that's easy to read.
Online, we love it when things are easy and hate it when they are difficult.
This is true for everything from articles, to social websites, to emails. Your domain name is no exception.
Key #3. Make sure it's easy to understand.
If we have to think hard about what we're reading, it creates doubt, hesitation and stops action.
If your coaching domain name doesn't make sense, it causes confusion and people avoid clicking it.
Key #4. A shorter domain name is better than a long one.
Simpler, shorter words are easier to remember, spell, and share.
A domain name like www.CoachJohn.com is infinitely better than www.JohnStephensonsBusinessCoachingandConsultingFirmLLC.com.
Short domain names are likely unavailable. So, try adding word to solve problem, like www.SuccessCoachJohn.com.
Key #5. Choose a coaching domain name that's easy to remember.
How many times have you tried to recall a website's name and forgot it? Often I bet.
The easier your website is to remember, the more likely people will visit it and tell others about it.
Key #6. Make sure it's easy to spell.
Some domain names are easy to read and understand but difficult to spell.
For example CounsellorJeannetteGreene.com sounds simple when spoken, but you can forget spelling it correctly.
Were there two Ls? Two Ns or one? Did it end with an E or not? Gah!!!
If you have to have difficult-to-spell name but want to use it, be sure to get the incorrect spellings as well. For example, I'd get CoachKenn.com as my domain name along with CoachKen.com.
Key #7. It expresses a benefit.
Remember, your clients want good things for lives, their work and their relationships.
If your domain name can tickle their fancies, you'll get them to visit.
Can you see how www.OvercomeLifeObstacles.com and HealthTipsforComputerGeeks.com imply benefits?
Key #8. It says what you do.
While your domain name may not express a benefit, another good approach is to tell what you do.
For example www.BizSuccessCoachJane.com or VibrantHealthWithJen.com would work.
Key #9. It's available.
Don't get too excited as domain name ideas pop into mind because many of the good one get snatched up daily.
Instead, quickly check your ideas using GoDaddy.com to check availability.
If your name is taken, try little creative tweaking with a word or two.
For example, since www.SuccessCoach.com is taken, try www.YourSuccessCoach.com or SuccessCoachAdam.com or even SucceedWithAdam.com.
Key #10. Go for a .com first.
Go for a domain name that ends in ".com" because that's people expect.
Avoid a .net, .org, .co or any other because they look weird.
If you can't find one, consider using your country's extension like JanBavea.com.au who coaches people in Australia.
It may take a little brainstorming, true.
You're in luck. Here's Bonus Key #11. Add keywords, ONLY if it's easy.
It will be tough enough to find a name that's simple, available, speaks about what you do, and appeals to your clients.
To have great keywords in their would require you to both do proper research and massage it in. That's a tall order, even for a savvy wordsmith .
Getting good traffic from search engines isn't highly dependent on keywords in your domain name. If it were so, then it would be too easy to abuse.
Rather, top rankings and high traffic from search engines are based on worthy, hard-earned metrics. Such measures are based on what will ultimately serve the end user like great content, inbound links from authoritative websites, and an easy to use website (fast, accessible, clean).
So don't sweat it.
I pulled it off in a small way with my website, CoachingSitesThatWork.com (better would be CoachingWebsitesThatWork.com) and a client of mine, TheSuccessfulBuilder.com (better would be (BusinessCoachingForBuilders.com but that's pretty dry).
Remember, SEO is not the only way to get traffic, and considering your strengths, your market, your goals, and your resources, rarely is it the place to start.
Examples of Good Coaching Domain Names
Both www.LawBizMastery.com and www.AttorneyBusinessSpecialist.com are excellent because they express a benefit and tell what you do. I'd prefer the shorter one because it's easier to remember and spell.
www.InTheBusinessOfLife.com is good because it tells what the website is about. It speaks to its target audience: business executives who want to improve their personal lives.
www.GetReadyToLead.com is great because it speaks to those who want to become a better leader. It's also easy to recall and spell. Nice!
www.EbookCoach.com – It obviously tells what the website is about, though already taken.
www.LifeCoachJohn.com – It's great because it's easy to remember, spell and pass on to others. It also indicates what John does.
www.PermanentFatLoss.com – For a health coach, this is excellent because it speaks to the challenge of being overweight.
www.JaneSmithCoaching.com – This is a superb choice because it's likely available, tells what the site is about, and is super simple to say, spell and remember.
Go get your sweet new coaching domain name now!
For more real life examples and strategies, see this: Find the Perfect Domain Name and Setup WordPress.
GoDaddy.com is the domain name registration powerhouse on the market. Use them to search.
BlueHost is a new favorite for hosting websites on WordPress.
How goes your domain name hunting? What ideas do you have? Post below.