10 Keys to a Catchy Coaching Domain Name
In this article, I'll give you my ten best tips along with lots of examples so you can hone in on a winning domain name for your coaching business.
These days, it can be tough to find the perfect one, because:
so many good ones are already taken
it's easy to overthink this and have too many ideas
fear of choosing the wrong one can paralyze you
But don't worry, if you pay heed to these 10 tips below, I think you'll be in good hands.
Ten Keys to a Catchy Coaching Domain Name for Your Coaching Business
As a quick tip – I like registering my domain name and purchasing hosting at the same time over at BlueHost.com.
Doing so reduces tech headaches and keeps things simple. Bluehost is also great if you're using WordPress to build your website.
OK, let's dive in …
Key #1. Select a Domain Name That Your Clients Like
You'll hear me say it like a broken record, your website is all about the client.
And so, the first key to a great coaching domain name is that it appeals to your best kinds of clients.
Spend a little time thinking about that lucky guy or gal and what they are after. What are their goals, desires, wishes?
Can you work out a domain name idea that speaks to those interests?
If needed, gather a few ideas and run them by a handful of people who are or could be your clients.
Key #2. Make Sure Your Domain Name is Easy to Read
Online, we love it when things are easy and hate it when they are difficult.
If we struggle to read your domain name, it's a minus. And, the more minuses people have with your website, the faster they leave.
So make sure it's effortless to read.
Key #3. Go for a Shorter Domain Name Over a Longer One
Simpler words are easier to remember, spell, and share. That's important for getting your business out there.
A domain name like www.CoachJohn.com is infinitely better than www.JohnStephensonsBusinessCoachingandConsultingFirmLLC.com.
Every day that goes by, shorter domain names get snatched up. So, try adding a word to solve the problem.
For example, if CoachJohn.com is taken, you can try SuccessCoachJohn.com or BusinessSuccessWithJohn.com.
Key #4. Find a Domain Name That's Easy to Remember
How many times have you tried to recall a website's name and forgot it? Often, I bet.
The easier your website is to remember, the more likely people will visit it and tell others about it.
Which of these look easier to recall later on
DreamInspireTransform.com
TransformYourLife.com
How about these?
CoachingWithKathrynn.com
CoachingWithKate.com
CoachKate.com
True, shorter ones won't be available. But, you still should think about what will be easy to recall.
Key #5. Get a Name That's Easy to Spell
Some domain names are easy to read and understand but challenging to spell.
For example, CounsellorJeannetteGreene.com sounds simple when spoken, but you can forget spelling it correctly.
Were there two Ls? Two Ns or one? Did it end with an E or not? Gah!!!
If you have a difficult-to-spell name and want to use it, then get the misspellings as well. For example, I'd get coachkenn.com (two n's) as my domain name along with coachken.com (one n).
—
Get more domain name ideas and strategies for creating a website that attracts clients in The Coaching Website Guide.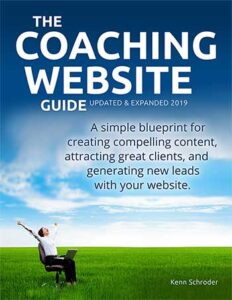 —
Key #6. Choose a Coaching Domain Name That Expresses a Benefit
Remember, your clients want good things for their lives, their work, and their relationships.
If your domain name can tickle their fancies, you'll get them to visit.
Can you see how www.OvercomeLifeObstacles.com and HealthTipsforComputerGeeks.com imply benefits?
Key #7. Find a Domain Name That Says What You Do
While your domain name may not express a benefit, another smart approach is for it to tell/inform/show clients what you do through it — like "coach", "coaching" or more loosely "guide", "advisor", "supporter".
For example, www.BusinessCoachJane.com or SelfcareWithJen.com would work.
If you can work in some benefits, that'll help like www.BizSuccessCoachJane.com or VibrantHealthWithJen.com would work.
Key #8. Be Sure Your Domain Name is Available
Don't get too excited as ideas pop into mind because many of the good ones are gone.
Instead, quickly check your ideas using GoDaddy.com. Then, when you're ready to buy, get both the name and hosting over at BlueHost.com if you're building on WordPress.
If your name is taken, try little creative tweaking with a word or two.
For example, since www.SuccessCoach.com is taken, try www.YourSuccessCoach.com or SuccessCoachAdam.com or even SucceedWithAdam.com.
Key #9. Go for a .com Domain Name
Go for a domain name that ends in ".com" because that's what people expect and automatically type in.
Avoid a .net, .org, .co, or any other extension because they look weird. And again, strange, odd, and confusing cause hesitation and distrust in visitors.
If you can't find one, consider using your country's extension like JanBavea.com.au who coaches people in Australia.
It may take a little brainstorming, true.
Key #10. Add Keywords, If Easy
It will be tough enough to find a name that's simple, appealing, and available.
Trying to get keywords in your domain name as well may help a little with search engine rankings, but at cost.
There's a good chance, especially if you're no wordsmith that your domain name will become very long, confusing to read, and harder to remember.
Getting good traffic from search engines isn't highly dependent on keywords in your domain name. If it were, then it would be too easy to abuse.
Instead, top positions in search results come from worthy, hard-earned efforts like great content, quality inbound links, user-friendly design, and more.
So, don't sweat the keywords.
After weeks of mental overdrive, sleepless nights, and excessive worry, I was able to arrive at my domain name, which has a little keyword action in it.
My domain name is CoachingSitesThatWork.com. It has a few things going for it including:
coach, site, which are keywords related to what I do as a website designer who works with coaches
it speaks to a benefit "that work" as many coaches websites don't work
it's simple and easy enough to understand and spell
sadly, it's not very easy to remember as people think of "coaching websites", which is already taken as a domain
In work with a client of mine, we came up with TheSuccessfulBuilder.com and did not go with BusinessCoachingForBuilders.com because it was longer and clumsier to spell, remember and use, even though it does have more keywords in it.
So, if you can smoothly work keywords into your domain name without making a mess, then go for it.
For many coaches, new in business, and not likely to use SEO as their marketing method of choice, worrying about keywords will likely cause time-wasting mayhem.
Examples of Good Coaching Domain Names
Both www.LawBizMastery.com and www.AttorneyBusinessSpecialist.com are excellent because they express a benefit and tell what you do. I'd prefer the shorter one because it's easier to remember and spell.
www.InTheBusinessOfLife.com is good because it says what the website is about. It speaks to its target audience: business executives who want to improve their personal lives.
www.GetReadyToLead.com is excellent because it speaks to those who wish to become a better leader. It's also easy to recall and spell. Nice!
www.EbookCoach.com – It obviously says what the website is about. However, this domain has been taken for a long time. EbookCoachBrian.com could work as well as WritingCoachJohn.com.
www.PeaceLoveAndJoyWithGrace.com – This would be a bit long, but it is quite clear. I'd be OK with it, especially if Grace was working with women who had a lot of pain, suffering, and negativity in their lives.
www.LifeCoachJohn.com – Is great because it's easy to remember, spell, and pass on to others. It also indicates what John does.
www.PermanentFatLoss.com – For a health coach who is targeting people who struggle to lose weight and keep it off, this domain name is excellent. Though, it's long been taken. www.PermanentFatLossWithJim.com would work.
www.NaturallyLeanAndHealthy.com is probably available and would be suitable for a health coach who also a fitness coach.
www.JaneSmithCoaching.com – This is a superb choice because it's likely available, tells what the site is about, and is super simple to say, spell, and remember.
Go get your sweet new coaching domain name now!
For more real-life examples and strategies, see this: Find the Perfect Domain Name and Setup WordPress.
GoDaddy.com is the domain name registration powerhouse on the market. Use them as a tool for searching for available domain names and buying in bulk.
If you're going to build your site soon, on WordPress, then I recommend registering your name and get hosting over at BlueHost.
So, what domain name ideas do you have? Post them below.