8 Web Writing Tips for Coaches
Get past blockers and fire-up your creativity so you can write copy that attracts clients online.
In this article, I'm giving you eight of my best web writing tips from in-the-trenches website design work with coaches.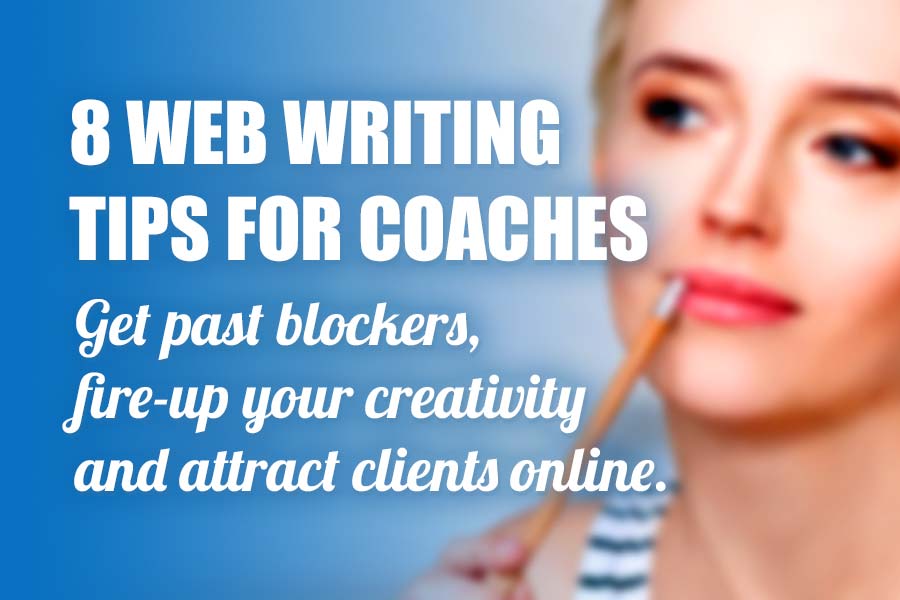 Getting the words down on paper can be a real battle.
First, there are the writing head games.
Psychostruggles like writer's blocks, perfectionism, fear of being judged, can make writing harder than pulling your own teeth. Sometimes you may find yourself staring at a blank page for hours. Or, perhaps, you'll be able to muster up a random bunch of sentences.
Next, finding good topics can be tough.
Coming up with content that clients will enjoy, and that will build your credibility can seem like a lost cause.
Lastly, there's the problem of idea overload. 
Often many creative, brilliant coaches can write a ton of stuff but struggle to pull it together into a cohesive, useful, readable way.
(Hey, if you've got another kind of struggle with writing online, I'd love to hear it in the comments below.)
In the ideal world (which I've seen and helped coaches learn), the goal is to make content writing easy and even enjoyable while ensuring you are creating material that speaks to your visitors.
You know it's essential to come across authentically and tell about who you are as a coach, and attract the right kind of people.
And if you want them to think about hiring you as their coach, your website needs to be exciting.
You can get a lot more page-specific advice, writing formulas, and real examples for your coaching website in The Coaching Website Guide.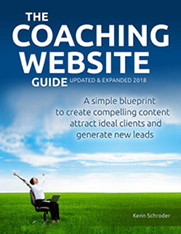 Tip #1. Shift Into the Minds of Your Clients to Find Fabulous Topics
As a warm-up exercise, imagine one person who could be an ideal client.
It could be a great past client, a client you're currently working with, or an avatar – an outline of a specific person you're seeking as a client.
Imagine you are right there with him or her. You're having a good chat over coffee. You are connected and having a magical session.
What are they thinking?
What's keeping them up at night?
What are their struggles?
What do they eagerly want to realize?
What's going on with them?
A little story
In a brainstorming session with a client, Rachel wanted some hot topics for her blogs. I asked her to tell me about one of her ideal clients in the past. She told me about a person who hated going to work and wanted to find a new career that she would feel happy about going to every day. 
From that simple statement, and a little digging into the nuances of the situation, we found these potential article titles:
How to begin finding a new career you'll enjoy
How to transition out of work you hate
How to identify a better career and not end up in the same dead-end job
How to not hate your current job while you seek a new one
Take a good 5-10 minutes to think about your reader, your clients, and their situations. Great topics will come to mind.
Tip #2. If You're Blocked, Remember That It's (Always) Just a Draft
No one (that I know) ever creates magical works of art on their first stroke of the pen. Greatness comes from lots of practice.
So, forget about your work being perfect. Forget about what others think. Forget about being judged. Let it all go.
Instead, think of your first effort as merely a rough draft.
All of my best writings came from multiple revisions. Yes, all.
Sometimes, the highly inspired ones ended up as duds while some of the more basic works became winners, to my surprise.
Try outlining a mini process for your writing. Use steps like this and stop in between them for a break.
Come up with a topic (see Tip #1) and list your rough ideas
— Take a break and come back later or the next day —
Organize the thoughts and flesh them out
— Take a break and come back later or the next day —
Polish it up and share it with a friend or two
— Take a break and come back later or the next day —
Make last edits from friends' feedback and then publish
I've used this approach in the past, and having smaller steps makes it easier and more fun.
On some sunny web-surfing shore, I caught an inspiring wave of advice, which is this, Great writing is the art of rewriting.
Remember, it's just a draft.
Tip #3. Speak in YOUR Voice – People Love to Connect With a Real Human
You may be stuck with writing because you're trying to act like a great writer or trying to say sound intelligibly.
Instead, let go of trying to be a certain way and relax into your usual, conversational, happy-to-be-me voice.
Write like you are emailing a friend, texting, or chatting on the phone. The casual, conversational tone will feel right to you. It'll feel real to the readers too.
Yes, you can let out your authentic voice as you go – especially for the draft. Later on, you can tighten up some confusing areas or clumsy wording.
Tip #4. For Length, Write Enough to Support Your Points
When thinking about length, the first thing to consider is the purpose of the writing.
For example, if you want to have a blog article that serves as a one-of-a-kind killer resource to boost your credibility sky high, and you intend to share it everywhere, it could be 1500 words or more.
If you are merely aiming to launch your first website in a week, you could aim for 500-word pages so that you get the job done timely.
If you're sending out a quarterly newsletter, it might be lengthy to cover the last three months of activity and give people a heads up about the future three.
In a nutshell, aim to write long enough to support your points. Then shorten it to avoid rambling, irrelevant content, and weak material.
For your first draft, worry less about the length and aim to get your best ideas out.
Tip #5. Use Simple Formatting and Do Not Bold Everything Dammit!
Yes, when I see a full page of bolded content, I get upset.
It's a pet peeve.
When it comes to formatting a page, you only need a few things:
Use italics to emphasize words.
Bold vital points that you want to stand out
Save underlining for links only, or you'll confuse people.
Use bullet points and numbered lists – people love them.
Use shorter paragraphs than in book writing (single-sentence paragraphs work)
Don't over-do it
I know wild, wacky marketers will tell you to underline, bold, highlight, circle, call-out, and go nuts on fonts that make your page look more like a pinball game, slot machine, or super-hero comic book.
But, I urge you to avoid that unless you test it against a cleanly formatted page. Then you can accurately know which is better for getting results
So many newbie coaches put up websites, and the option to choose from hundreds of fonts, colors and styles end up making a mess. Imagine a kid alone in a candy store unwatched for an hour.
Tip #6. The We/I Issue Solved
Here's a good question, When you write about your business, should you use the word "we" and try to look like a big operation OR should you be transparent and use the word "I"?
If you indeed are a group of coaches working together, then go ahead and refer to your team and use the word "we" in your client – like the About Us page.
If you're a single coach business, then I would NOT use "we" because people will quickly figure out you're actually an "I". They'll think that you're trying to appear like a bigger operation than you are. That's inauthentic and a turn-off.
But this we-or-I issue isn't a problem if you're content is filled with a lot of "you."
If you're writing good content on your website, then a lot of your copy will be about the visitor. You'll find the word "you" highly everywhere.
It'll occur so much so that "I" or "we" won't show up much.
For example, here's some copy with a lot of "we,"
Our coaches are practitioners of the performance-based coaching approach called the G.R.O.W. methodology. We use this process to set goals with our clients. We've found this approach most helpful.
Here's the same content with a lot more "you" in it,
We use performance-based coaching to keep your action steps clear and focused on the results most important for growing your business. Your fears and worries will fade away, while new feelings of confidence keep you motivated each week. 
Remember, your website is all about the client.  So, make sure the word "you" is found in plenty. Then use "we" and "I" in the few places it shows up.
Tip #7. Use An Active Voice to Hold Attention
I'll admit it. I'm cheating. I'm using Grammarly these days for my writing. Yes, I decided to go premium so that I can write better.
In addition to grammar goof-ups and typos, Grammarly does an excellent job of propping me up when I start writing wimpily.
An active, direct voice makes reading faster and easier for visitors. A weak style slows people down, and that doesn't work online.
For example, instead of writing, High levels of stress are often caused by poor life balance, be direct and say, Poor life balance causes high-stress levels.
In other words, you might, sort of, want to avoid wishy-washy words like may, might, could, can, can be, virtually, as much as, help, like, believe, possibly because they typically, tend to weaken your points, from what I've mostly seen.
Tip #8. Don't Try to Be Smart. Instead, Be Helpful.
When writing, you don't need to sound like you know everything. You don't have to prove any elite intellect over your readers.
For most, being a know-it-all is a big turn off.
Instead, aim to be supportive and helpful. Share what you DO know. People love receiving content from a real, caring, human.
You'll know this feeling when you sit down to write, and you're judging your work's quality or seeking the perfect words to make things sound smart.
It's good to go back to Tip #1, Shift Into the Minds of Your Clients to Find Fabulous Topics, which will take you out of your head and into your client's situation with an understanding, caring, helpful heart.
Your 1-Minute Action Challenge for Writing Better Web Content
Think about one of your favorite authors, experts, or gurus. If you can pull up their blog or website, then do so and consider these questions:
Are their pages easy to read?
What formatting (bold, italics, lists) are they using?
Are they choosing topics that are important to you?
Can you feel the author behind the words?
What's fantastic about their content?
Post your discoveries below.