How to Write Great Coaching Blog Titles Like Mitzi's
Here's a short but juicy dig into writing engaging blog titles for your blogs or other writings on your coaching website.
Remember, that if your titles don't entice people to read, they they won't click and discover the awesomeness that is you 😉 So, pay close attention to this mystery element.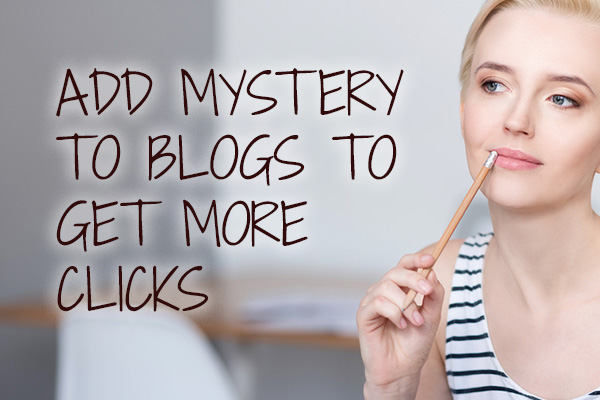 Mitzi Bockmann from LetYourDreamsBegin.com and one of the rock star coaches from my web mastery group has basically made her blogs that begin with "5 Ways to …"   her signature style.
And it works like a charm.
They simply start out with "5 Ways to …" and she just chooses a good topic to talk and teach about. You can see how she does it at her life coaching website.
Here's are a few titles from her blog …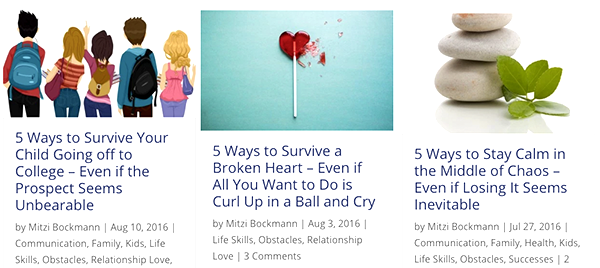 Can you see how the "5 Ways … " gets you to wonder what those 5 things are? That's mystery in action!
Here are more simple ways you can start out your blog titles with mystery …
How to [reach goal or beat challenge]
How to Find Joy at Work
3 Steps to [reach goal or bat challenge]
3 Steps to Let Go of Work Stress
One Odd Way to [reach goal or beat challenge]
One Odd Way to Shift Out of Feeling Stressed to Feeling Joy
Remember, these starting phrases are the "mystery elements" that make up a proven title that gets attention. I wrote about how Santa is masterful at this.
This mystery element is the thing readers don't know about that they want to learn in order to reach their goals or beat their challenges. It makes them click.
Are you itching to setup a great website for blogging so you can build credibility and attract good clients?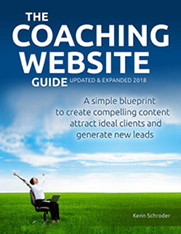 Clients love to hire coaches who showcase their expertise.
And blogging is such a swift way to do that – and it does NOT have to be hard nor do you need to be a pro writer.
In The Coaching Site Guide, I show you how to create such an "expert website" for which blogging is a central tool for marketing.
There's a solid chapter dedicated to it.
You can make that mystery element even more mysterious by being specific, fun or quirky, like this …
How to Quickly [reach goal or beat challenge].
How to [reach goal or overcome challenge] in Five Minutes.
or …
3 Steps Each Morning to [reach goal or beat challenge]
3 Simple Morning Affirmations to [reach goal or beat challenge]
or …
One Odd Way Women [reach goals or beat challenges]
One Habit Happy People Do to [reach goal or beat challenge]
And this mystery approach to writing titles is great not only for blog titles, but for freebie titles, courses, ebooks, videos and just about an "info piece".
Does this mystery element make more sense? Are you getting any ideas for articles titles you could write? I'd love to hear from you. Just post below.