How to Set Up Your Coaching Website on WordPress – 2022
*** FEB 24th, 2022 UPDATE ***
Here's the new video tutorial on YouTube:
How to Setup Your Coaching Website on WordPress 2022
*
Below is an older text-based guide, if you prefer.
Choose your own adventure 😉
WordPress is an amazing website creation platform for coaches. There are lots of great design tools, and functional plugins you can use to make your website both beautiful and powerful. And WordPress is hands-down the top platform for publishing content — namely blogging — which I LOVE for building credibility.
But getting it going can be tough for do-it-yourselfers because there's a lot of information out there (much irrelevant to coaches) and when you hit a tech snare, it can be a hair-pulling experience to get it sorted.
What this step-by-step WordPress setup tutorial will do are:
help you quickly learn the basics of WordPress, just what you need to know at the start
get the technical framework in place (hosting, domain name, email, secur server),
and, enable you to start adding content and customize the design
I'll take you from nothing to a functional, live, WordPress website so you can start creating pages. In the future, you can add more functionality, slicker design, and more.
If you get stuck, just post in the comments, and I'll happily guide you along.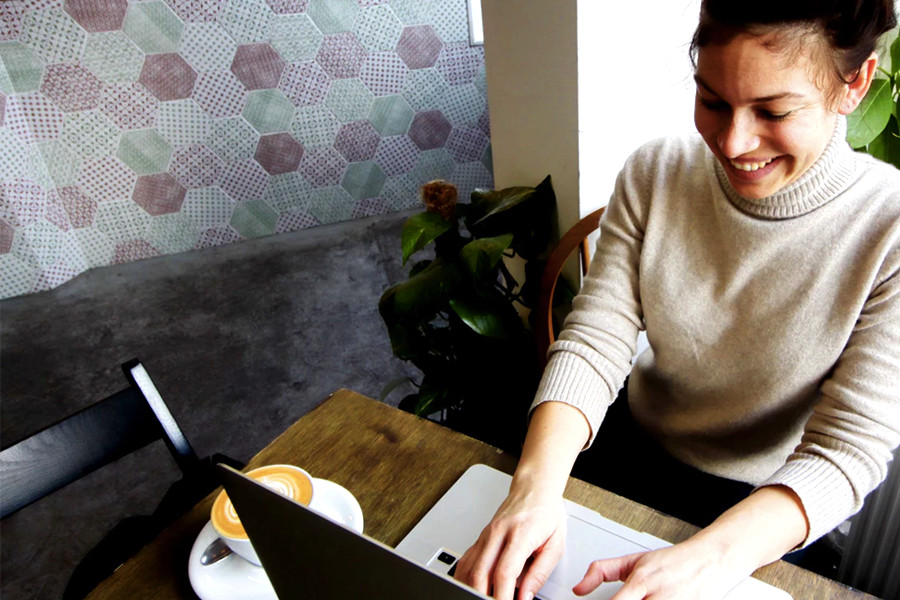 So now, let's set up your coaching website on WordPress and get your online presence started so you can grow your coaching business. Let's go …
The Steps Ahead
Just a summary of the steps ahead …
Step 1. Notes Before You Start
Step 2. Choose a Great Domain Name and Get Hosting
Step 3. Create a Biz Email Address
Step 4. Set Up WordPress
Step 5. Activate the Secure Server
Step 6. Activate Your Theme
Step 7. Create Your First Page
Step 8. Where to next?
Step 1. Notes Before You Start
Just some notes to prime you for joy with WordPress … 😉
Note 1.1 – If you get stuck, post a comment below. I'm happy to help.
This year, 2022, I'm looking out for the DIYers out there who are going to build their coaching website on WordPress. So, if you're struggling at all, just post a comment below and I'll respond with help.
Note 1.2 – Why I think WordPress is fab for coaches.
WordPress has been around a long time, since 2003. It's one of the first website-creation platforms originally designed for blogging. Since then, it's become the most powerful "content publishing" platform.
Thousands of passionate, enthusiastic developers worldwide work on WordPress, for free, to make it great. It's an open-source platform, meaning anyone can access its coding.
I like WordPress for coaches because creating educational, inspiring content and sharing it is what a savvy, trustworthy, guru would do. Clients (who want one-on-one attention) are drawn to that expert image.
Due to its popularity, there are many themes, plugins, and other kinds of software made for WordPress, extending its power.
1.3 – We're setting up the better "self-hosted" version of WordPress
A "self-hosted" setup means that you will have WordPress installed on your hosting account, which costs $3/month at BlueHost. This is what you'll see most often, especially on great websites.
The other way, a "hosted" setup of WordPress, is via a subscription plan you pay at WordPress.com. You have less control over these websites, making some basic functionality and design clunky.
Here's more detail about self-hosted versus hosted WordPress.
1.4 – The links in this tutorial will open in a new tab.
I have the links opening in new tabs on your browser so you can easily come back to this tutorial.
1.5 – I'm using affiliate links.
Full disclosure, I'm using my affiliate links for the software that I use, I love, and highly recommend. In this tutorial, I'm recommending BlueHost for hosting (good host) and the Kadence Theme (which is free, but you can get premium features later, and I love this theme). You won't pay more by clicking these links and the spare change keeps my coffee mug full. Thanks!
1.6 – How to Handle Tech Snares
My aim is to get you set up fast and minimize tech hassles. With Web technology there are many moving parts, so you can get stuck. But never fear, Kenn is here! All tech problems can be fixed. I know this first hand as a programmer at 7 years old on my Commodore 64 back in the 80s.
Here's what to do if you get frustrated by a snare:
Post a comment below with lots of detail, and I'll have a look.
Read 7 Ways to Fix Tech Issues Fast, to troubleshoot it yourself.
Call the host company, Bluehost, for immediate human help (good move).
Call a nerdy friend or post to social group that you might be in.
1.7 – Please hit the LIKE button.
If you can hit Like, it'll help me gauge how many people have come here and enjoy this information. I want to make this a super-handy tutorial page for the DIYer's out there. Thank you!
STEP 2. Choose a great domain name and get hosting
2.1 Come up with a good idea for a domain name.
Make sure you've got a great coaching domain name by reading this blog post, 10 Keys to A Catchy Coaching Domain Name (link opens in a new tab).
I like to use GoDaddy to search for available names, BUT then buy both the domain name and hosting service at BlueHost — this reduces tech headaches and speeds up the setup process.
2.2 Four approaches to a great coaching domain name.
Approach 1: Use your name.
This approach brands "you," which makes many things easier – especially if your niche/market isn't clear, and you want to let it unfold (very common).
For example,
KennSchroder.com
TonyRobbins.com
JanBavea.com.au
DrTimConrad.com
Approach 2: Get "coaching" in there
There's a good chance your name isn't available or if your name is easy to misspell, then try something simpler by mixing in the word "coaching."
CoachingWithMike.com
BusinessSuccessCoach.com
FindRealLastingLove.com
JaneWintersCoaching.com
Approach 3: Use your market's desires
I love this approach because it speaks to your client's needs. In marketing, especially for coaches, you gotta lead things with the client's interests.
If you've narrowed your niche, you can be quite brave with your domain name. If you're more general, that's ok – be more general. But ALWAYS be clear.
A few examples:
OvercomeChronicFatigue.com
DoubleYourProfitsThisWeek.com
CoachingSitesThatWork.com
VibrantHealthToday.com
Heavy-hitting marketers will steer you in this direction. Me, I've seen many things work, and what I believe about marketing, websites, and getting clients is a story for another day. 😉
Approach 4: Mix and match
You could mix your name, the word coaching, and the desires of your market into your domain name to find something powerful, special, and unique.
Some examples:
HealthCoachingWithCarol.com
VibrantLifewithJane.com
ExecutiveCoachMary.com
BizSuccessWithBrian.com
With a little brainstorming, you can get creative and find a winner.
2.3 Register your domain name.
If you have a domain name registered and paid for, I recommend transferring it to BlueHost — which you will do while you complete the process of purchasing hosting. Doing so will reduce the technical setup.
Simply buy the plan for WordPress on BlueHosts's homepage. It may take several days for the domain name to transfer, so be patient.
If you do not have a domain name purchased, then get your domain name and hosting plan (the one on the homepage) at the same time.
Remember, if you get stuck, just post below.
Step 3. Create an email account for your biz
3.1 Set up a new business email account
Once you've bought your domain name and hosting at BlueHost, immediately set up a business email account. Just follow this tutorial.
When I say it's a "business email account," all I mean is that its sole purpose is for business use. There's nothing functionally special about it.
I like using email hidden; JavaScript is required for that personal feel. For example, email hidden; JavaScript is required.
Many executive types like email hidden; JavaScript is required. For example, email hidden; JavaScript is required.
You'll need this email address to send emails from your website to people for it will reduce your chances of being blocked by filters. Basically, if the email that your website sends isn't from your website (meaning it doesn't have your website address in it), then it's a red flag that it might be from a spammer.
Save the password somewhere private. Using a complex password is OK, in my book. I've given up on trying to remember passwords and just keep them on a sheet of paper under my pillow. (Whoops! I didn't say that on a public website.)
NOTE: If you had already used your personal email address when setting up WordPress for your website (say you jumped the gun on this tutorial), then you can easily change it to the new business one at any time, like now.
3.2 Confirm the new email address is working.
To confirm that the email address is working, try sending a test email from your personal account to your business account, and then reply back. Confirm that email messages are flowing both ways.
You'll need to access your new biz email address by logging into BlueHost and using one of their email-management platforms — at least until you add this new biz account to say Gmail or Outlook or another program.
Struggling? Just post a comment and I'll see if I can help.
STEP 4. Install WordPress
4.1 Follow this video
You're in luck! In 2020, I made a setup video here How to Set Up Your Coaching Website on WordPress (link opens in a new tab). Pop open that video and follow it along.
I know it's 2 years ago, so some of the screens will be different. Just do your best to complete the steps and post a question below. I'm due to create a replacement video. If you get stuck, the fastest solution is to call BlueHost. They have a 24-7 chat and international phone line you can use.
You can surely post your questions below as well. I'm watching comments actively.
4.2 All set up? Post your new link below, even though your website isn't done!
This is a big moment! You're now officially connected to the Matrix! Post your website address in the comments and let me know how you're going. I await …
STEP 5. Activate The Secure Serve
5.1 Activate your free secure server.
You get a free secure server (Secure Socket Layer, or SSL if you like geek-speak) with your hosting plan at BlueHost.
This provides a layer of security where information sent from your browser to your website and back to the browser is encrypted (coded so hackers have a hard time reading it).
Adding this level of security step isn't a big deal because your visitors aren't sending sensitive information to your website like banking information. But, Google will like your site more if it's "secure" and your visitors won't see a disturbing "website not secure" message, giving them some trust in you.
Do this: Here's how to activate your secure server.
5.2 Confirm this secure server is working right
Simply go to your website's address by including the s in the https:// part of the link — which is more technically known as the URL (uniform resource locater).
You'll also want to make sure that when you type in your domain name by itself, such as www.coachingsitesthatwork.com, you are redirected to your website, and the https:// is what's being used, and that there's nothing saying that the "site is not secure."
When you activate the secure server, it make take a few hours to a day to be fully functional.
All good? If you're struggling, post below. Or better, try calling Bluehost for immediate help. They're pretty good.
Step 6. Activate The Kadence Theme
6.1 Install Kadence, or Divi if you prefer.
Late in 2020, I moved from the Divi theme to the Kadence theme. Kadence is a lightweight, fast, and quick-to-build theme that's native to WordPress (native means it doesn't attempt to reinvent aspects of WordPress). Slick is a good word for it. It's very fast because it's a lightweight theme. I recommend this theme and use it primarily these days.
Install the Kadence. It's free. There are premium options available for more advanced layout, design, and functionality — stuff to think about another day.
— Or, if you like use the Divi theme, a great choice too —
I have used The Divi Theme by Elegant Themes since 2015 and still use it on many websites. Divi is powerful with a sweet visual page builder. It's a heavier-weight theme than Kadence and thus slower (noticeable if your computer is older and/or internet speeds aren't fastest). The theme authors (the makers of a theme) are smart, forward thinkers. If you'd rather do Divi, here's a video: Installing and Getting Started with Divi Theme.
All themes will require a hop, skip, and jump up a learning curve. If you like "less is more" and just want to take Kenn's best recommendation, then go with Kadence. If you like a visual wow factor, then go with Divi. Both are good choices.
I don't change technology often. I know that success is more a matter of how you use a theme, not so much the theme itself. Just like a talented artist uses a few tools well rather than many tools. Kadence and Divi are solid tools.
6.2 Got your theme installed? Great! Tell me about it in the comments below.
If you've chosen and installed your theme, let me know about it. Or if you're struggling to do so, just pop your question in the comments. How did your installation go?
Step 7. Create Your First Page
From here on in, it's about getting familiar with the WordPress dashboard, creating content, and adding visuals. The "dashboard" is the back-end, administration area of your website.
This YouTube video at my channel is a good next step, Learning the Lingoo of WordPress.
I've written a book about creating content on various pages called The Coaching Website Guide. You could buy that and follow the chapters to draft content. I often send chapters to my clients as we build their sites.
Five pages you can begin with are:
Homepage – try writing a summary of the main thing your coaching helps with — like living life fully, or finding a meaningful career, or leading teams … all depends on how you want to position and who you are looking to (or likely to) work with.

Coaching page – A page about how your coachign works, but be sure to talk about the benefits and situations it's ideal for.

About Me page – Just the stuff "about you" that's most relevant and beneficial for your clients to know about.

Success Stories – I like the story format for testimonials. It's so much more powerful for communicating your value.

Call to Action page – Not just a contact form, but a page dedicated to getting in touch with you — be it a short call, long call, paid session, or a simple email. Figure out your onboarding process.
Step 8. Done? Congrats! Where to next?
I tip my hat off to you. You're online with WordPress! Please post in the comments and let me know you've done it!
You are ready to take over the world!
Some great next steps to take:
When do you want to launch fully? Pick a launch date. Dare to tell others about this date.
Look the topic of "brand archetypes" and see which one suits you and your style of coaching. This can give your website a lot of personality 😉
Get clear about your ideal client, if you haven't already. Create what's called user-interface designers call a "persona."
What's your onboarding process? Get clear about that so you konw what you'll ask visitors to do at your webite.
Join the WordPress 101 for Coaches Facebook Group here. It's a place dedicated to newbies on WordPress so you can learn more, grow your website, and have some social fun along the way.
Oh, and for a lot of help with design, pages, and content, you should check out my book, The Coaching Website Guide.
Remember, if you need help, just post below.
I mostly build websites for coaches, as their techie. But this year, 2022, I want to pull together my best material for you do-it-yourselfers out there. I know you're struggling, and you don't have to — if I can find you! 😉