How to Set Up Your Coaching Website on WordPress
** Update May 2020: I recorded a single one-hour video on YouTube, How to Set Up Your Coaching Website on WordPress. Simply use that video or continue on below. **

Here's a simple, step-by-step guide to quickly set up your coaching website on WordPress. It's not hard and if you get stuck, just post your question. I'm right here to help.
Let's get your online presence started so you can develop your website, and get your business underway. It'll take about an hour, so fetch yourself a yummy, warm latte, or that Rooibos tea.
When you've launched, post your website address below. If you get stuck, just post a comment or, better yet, join us in WordPress for Coaches Facebook group for warm-blooded human help.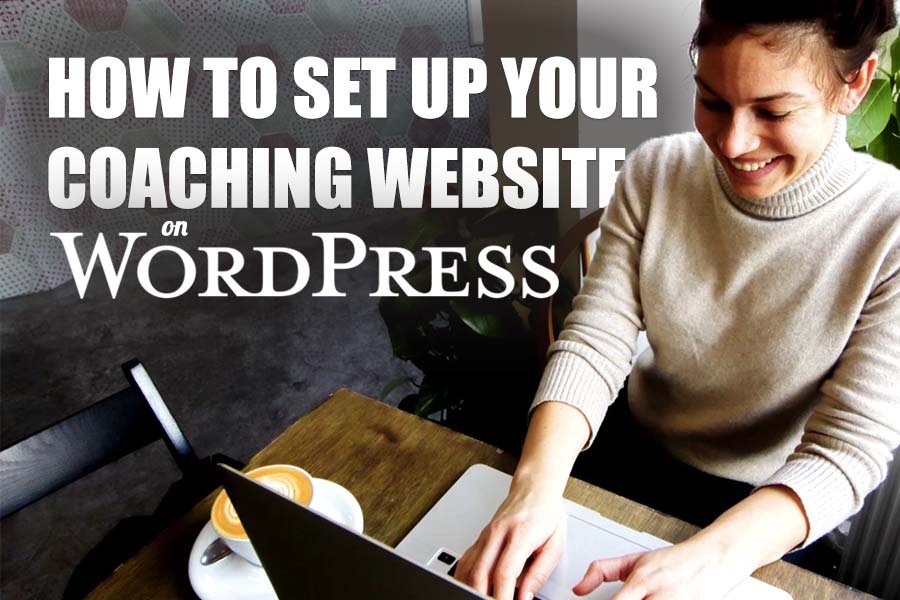 We'll start by finding a great domain name, then get hosting in place with Bluehost, then install WordPress, and finally, have a look inside so you can start adding content.
Afterward, you can search for a great theme, create more content, find great images, integrate your social profiles and all that other fun stuff you hear about online ;).
I'm using my affiliate links for the services below. I love and use them every day. You won't pay more by clicking them and the spare change keeps my coffee mug full – so I can stay energized 24-7 to help you grow your biz.
Overview: The Steps to Set Up Your Coaching Website on WordPress
Step 1. Find the perfect domain name
Step 2. Register your domain name and get hosting
Step 3. Install WordPress with one click
Step 4. Log in and start adding content
If you get stuck, here's how to quickly end the hair-pulling drama …
Call the host company, Bluehost, for human help
Post a comment below with lots of detail, and I'll have a look
If you need some serious help, then reach out to me
Two quick notes …
Note 1: Why WordPress for your coaching website?
I've mucked around with all kinds of website builders like Wix, Squarespace, Weebly, GoDaddy's overnight-builder, and more.
I love WordPress because …
it's great for stunning visual design
it's unparalleled for content marketing (blogging mainly)
you can add slick functionality as your business grows
While WordPress is easy enough to learn, it can be a little scary when you first peek inside. And so, I've included a video below to help you quickly gain your bearings.
More detail about why I love WordPress for coaching websites.
Note 2: We're setting up the better "self-hosted" version of WordPress.
WordPress's "self-hosted" setup means that you will have WordPress installed on your hosting account, which can cost about $10 a month.
The other way, a "hosted" setup of WordPress, is via a subscription plan you pay at WordPress.com. These websites are sub ideal because they are clunky, ugly, and functionally limited. Nearly every site I've seen there is a mess.
Here's more detail about self-hosted versus hosted WordPress.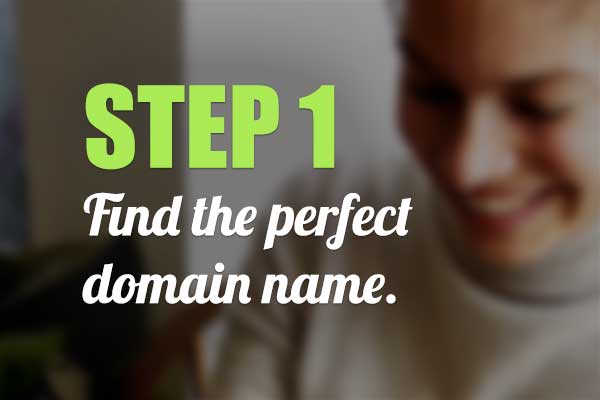 Step 1. How to Search for the Best Domain Name That's Available for Your Coaching Website
I like using GoDaddy to help me search for a name. Then, when I'm ready to build, I perform the actual registration at Bluehost to have both the name and hosting in the same place. It's simpler and reduces tech fuss.
So, first, we need a great domain name choice. If you haven't decided on one, here are my favorite four ways to do it:
Approach 1: Use your name
This approach brands "you," which makes many things easier – especially if your niche/market isn't clear, and you want to let it unfold (very common).
For example,
KennSchroder.com
TonyRobbins.com
JanBavea.com.au
DrTimConrad.com
Approach 2: Get "coaching" in there
There's a good chance your name isn't available or if your name is easy to misspell, then try something simpler by mixing in the word "coaching."
CoachingWithMike.com
BusinessSuccessCoach.com
FindRealLastingLove.com
JaneWintersCoaching.com
Approach 3: Use your market's desires
I love this approach because it speaks to your client's needs. In marketing, especially for coaches, you gotta lead things with the client's interests.
If you've narrowed your niche, you can be quite brave with your domain name. If you're more general, that's ok – be more general. But ALWAYS be clear.
A few examples:
OvercomeChronicFatigue.com
DoubleYourProfitsThisWeek.com
CoachingSitesThatWork.com
VibrantHealthToday.com
Heavy-hitting marketers will steer you in this direction. Me, I've seen many things work, and what I believe about marketing, websites, and getting clients is a story for another day. 😉
Approach 4: Mix and match
You could mix your name, the word coaching, and the desires of your market into your domain name to find something powerful, special, and unique.
Some examples:
HealthCoachingWithCarol.com
VibrantLifewithJane.com
ExecutiveCoachMary.com
BizSuccessWithBrian.com
With a little brainstorming, you can get creative and find a winner.
STUCK? If there's a heap of hair on the ground from hours of thinking about your domain name, then post a comment below with all that's rattling around in your head, and let's see if I can help. Plan B would be to contact me, and we'll set aside some one-on-one time.
Can't seem to settle on the perfect domain name?
Yes, available domain names are becoming rarer, and resellers are snatching up the cool ones in hopes of a gold rush. Even so, I'm very confident that a little wordsmithing is all you need.
If you still want to rack your brain, here are some tips …
Tip 1: Ponder these questions
If you're not jittery yet from a caffeine overdose, then get a bigger cup of coffee and sit by a window with a distant view to open up that mind and ponder these questions …
Who are your best clients?
What are the top challenges and biggest desires they have? I like having my clients list 20 for both challenges and desires – so 40 in total.
Are there any common themes like "can't find love" or "struggling to grow their business" or "can't stay focused"?
Use ideas from that brainstorm to see if you can piece together a few good choice words into something that sings.
---
REMINDER! Remember to use GoDaddy.com to see if your name idea is available and when you're ready, do both the (1) domain name registration and (2) hosting purchase at Bluehost.com and thank me later, hehe.
---
Tip 2: Consider four -or even five- word domain names
Longer domain names are good choices because they are likely to be available and can bring more specificity to make your message powerful.
You've seen a few above, but here are more examples:
LetYourDreamsBegin.com
TechServiceFirmSuccess.com
YourCareerByDesign.com
CoachingSitesThatWork.com
Tip 3: Don't worry about keywords
If you know your ideal keywords and can work them into your domain name, then good, go for it.
Just don't make your domain name excessively long, ugly, or confusing by stuffing words in there. It'll do a disservice to your clients and isn't worth the tiny bit of search value you get.
For most coaches, I would not worry about keywords in your domain name. It's not a must to succeed. Just a nice to have.
If your sole aim is to get traffic from search engines — then try for prime keywords in your domain name. Study SEO and do your keyword research.
Tip 4: Get out of your head
Bring this up with your coach.
Don't have a coach? Tsk tsk. Then, grab a good friend who will make space to listen and give their honest reactions.
Friends in marketing or even reaching out to some of your best clients are also good moves so you can see what your buyers think.
You can also post your best few ideas to your Facebook friends via a poll, or to one of your coaching groups.
Yes, getting out of your head and away from those inner demons that thrive on chaos and confusion is a good move to ground you into a good decision.
If you're getting stuck, bogged down, or struggling with this step, I'll be your friend for an hour. Contact me here, and we can book a call to help you come to a confident decision.
Tip 5: Avoid perfectionism with this tidbit
One key to biz success is to make quick decisions. Just like in firing arrows at a target, you have to shoot, evaluate, and refire.
The sooner you can get your website, business, and message out to the world, the faster you can adjust course and move towards your goals.
Having a guide, mentor, or Mickey Goldmill (Rocky the boxer's coach) in your corner can help you avoid common mistakes and progress faster. But you will have to pull the trigger if you want to (eventually) hit bulls-eye.
---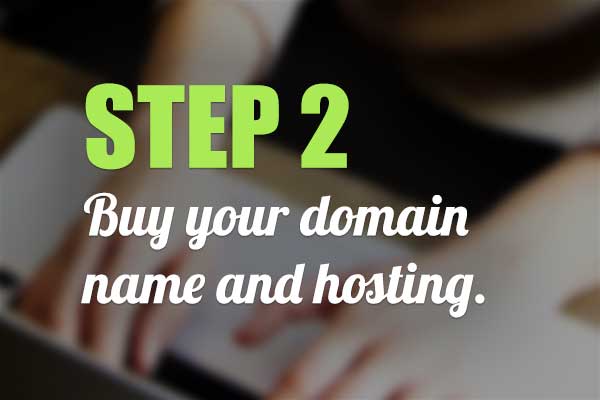 Step 2: Register Your Domain Name and Get Hosting
It's a zoo out there when it comes to hosting providers. One person loves this host. Another loves that host. Both hate each other's host. Who is right and who is wrong?
I don't care and I won't spend hours figuring it out. I want hosting that:
doesn't cost much
does the job – my website is fast and always up (99.9% up-time)
has patient, smiling, human support so I have someone to yell at — hehe just kidding — someone who can investigate and solve the problem.
I've tinkered with a few hosts, and I'm happy to recommend Bluehost.
They give me what I want, don't cost much, and specialize in WordPress websites as a bonus. You also get a free SSL certificate too. Nice.
When you sign up with them, you'll add your domain name during the process. The offer currently on the home page will do the trick.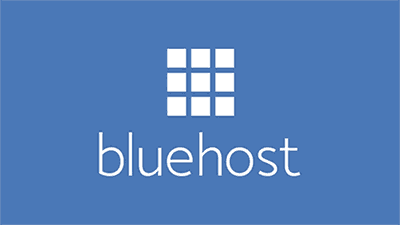 Thank you, Bluehost, for making my life easier and NOT charging me all kinds of extra fees for little stuff that should be included.
If you didn't put much thought into your choice of host provider, then take my recommendation and cancel with your current place and get Bluehost.
---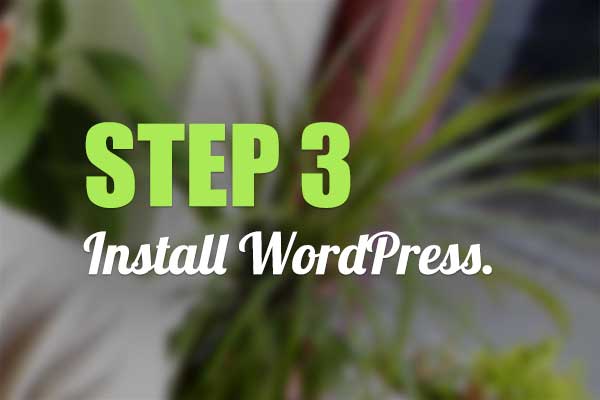 Step 3: Install WordPress with 1 Click
Once you've completed the purchase, jump into your account, and find the one-click installation button. Below is a video to help.
The process may have changed as technology gets updates, so I apologize in advance if something doesn't exactly match the video.
If anything goes wrong and you're wasting too much time, open a chatbox or call them up – here's a link to their contact page.
I'm sorry about the click sounds in the video below. Fixing it is on my to-do list. Be sure to click the full-screen icon in the lower-right.
Watch the video to set up your coaching website on WordPress at Bluehost.
---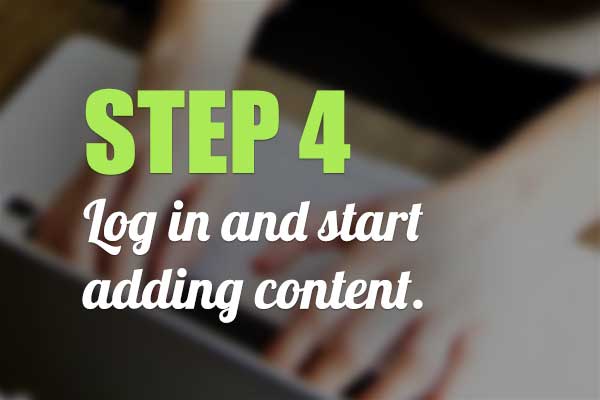 Step 4: Login and start adding content
Bluehost has recently upgraded its customer portal to help you log into your WordPress website easily. Nice move.
Traditionally, to log into your website, once the installation is done, you simply go to the website's address and add "/wp-admin" to the URL.
For example, as shown below, http://coachkenn.com/wp-admin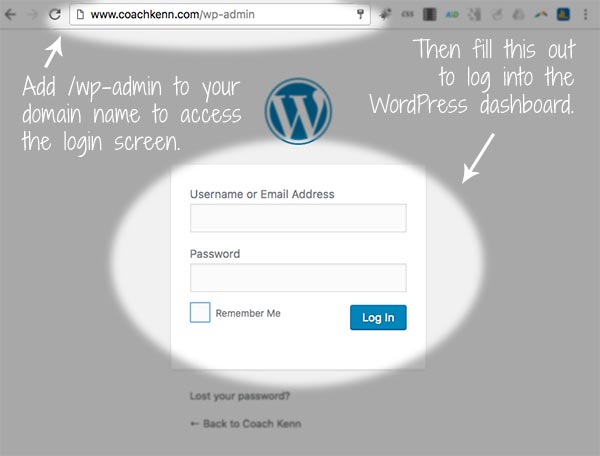 Able to log in? Great! Let's have a play inside.
Video 1 of 2: A quick overview of what's inside WordPress
---
Video 2 of 2: More play around inside WordPress.
In this video, we will install a theme, edit some content, and mess around with the menu.
[divider]
Done! Congrats! Where to next?
If you've gotten this far, then a big congratulations to you! Most excellent!
You now have your domain name registered, your hosting account setup, and you've successfully set up your coaching website on WordPress!
You are ready to take over the world!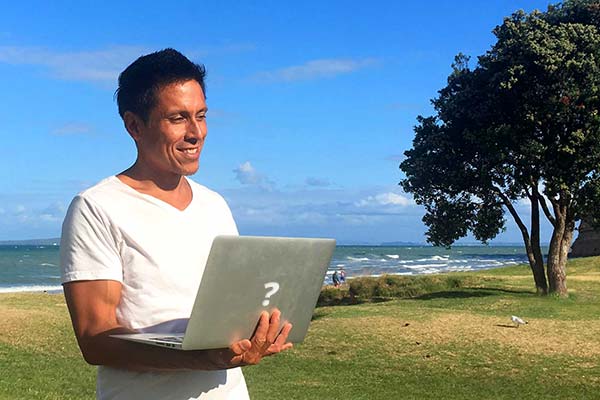 Here are a handful of things you can focus on next …
1. Join us in the WordPress 101 for Coaches Facebook Group
It's a place dedicated to newbies on WordPress so you can learn more, grow your website, and have some social fun along the way.
Join the WordPress 101 for Coaches Facebook Group here.
2. Plan for great content
In particular, here are 6 Big Questions Every Coach's Website Must Answer to start giving you ideas for content.
A good move to make is to outline a map (called sitemap) of the pages, content, and calls-to-action for your website.
Be sure to think about how your website's various elements will work together to give the visitors an experience that will help them see you as a coach they should work with.
Think about how your website will lead visitors to take action to become your client. Think about your sales process.
The website model I use often is called the expert website. It's great for building credibility and generating leads. I discuss this in high-def in the big book I wrote called, The Coaching Website Guide.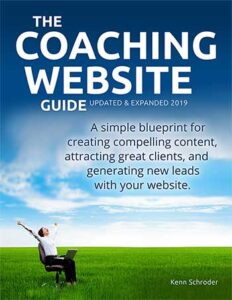 3. Find a great theme
A "WordPress theme" is a set of files that give your website a specific look, handy functionality, and neat content-layouts.
Ideally, the theme provider is available for support because something always goes wrong with technology – and you'll want to minimize any time-wasting swiftly.
I love the Divi theme by Elegant Themes. It's great for laying out pages quickly and beautifully.
Since I've got a tech thumb, it's easy for me to learn. For the non-techie, it can take a little time, and I recommend sitting with someone who knows the software for fast learning. You can reach out to me for rapid learning.
For technophobes, don't do your website 😉
A free theme I have used for the website, Life Coach Website Project (a fun little group website design experiment), is the Thoughts theme by WPExplorer. It's crisp and clean with not too much caffeine.
You can also read more about the Top WordPress Themes for Coaching Websites for more ideas.
4. Be daring and choose a launch date
While you have WordPress freshly installed, your website is definitely not ready for the world because you need to add visuals, content, and functionality.
Getting the work done is a big challenge for many. Many coaches fail to launch due to procrastination, shiny-object syndrome, and writer's block.
The move to make is to choose a gutsy launch date. Use the launch time estimator to help.
5. Create a welcome video
Pull together a short and simple way to introduce yourself to potential clients in a 1 to 2-minute video.
This exercise is a great way to get comfortable with verbalizing what you do.
Here are some articles to help you figure out what to say:
6. Write some killer articles
A super way to get your name out there (I do it, gurus do it, and I'm sure you've seen it before) is to write great articles or blogs.
Having a kick-butt article that people love boosts your credibility and drives traffic to your website.
To write awesome articles that people want to rip open and read, use Santa's MV Technique.
Post your website address below (it'll help with search rankings too)
I get a small boost of feel-good hormones when I hear from readers. So yes, any questions, ideas, or thoughts are welcome. Just post them below.
Oh! And if you do comment, be sure to include your new website address to get a small boost in your search engine rankings for the term "coach."