Today, we'll dig into the top 10 coaching website mistakes I've found that can jeopardize the success of your business – setting you back thousands of dollars, wasting months of work, and give you an ulcer.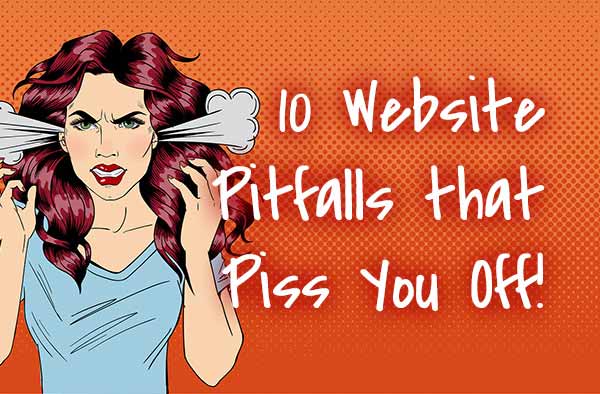 The statistics (I hate them) say that most coaching practices will fail to make a profit. To add to that, in my own research, most coaching websites don't bring in any new clients.
That stinks.
Let's change that.
Here are the top 10 coaching website mistakes to avoid …
Coaching Website Mistakes #1 – Having a blurry vision for your website (and often business).
Just like you wouldn't let a client get away without getting clear on the goal, outcome or result they want, you shouldn't build a website without a good idea about it's purpose.
If the vision for your website is hazier than LA Smog, it will be tough to write content and hard to determine what features to incorporate. You will struggle to build it, often going back and forth with a designer or second guessing your copy.
This unclarity makes it very hard to get the job done.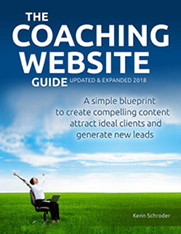 Skip past many coaching website mistakes by creating a clear sitemap for your website including pages, content and functionality. Make your website into a client-attraction machine with The Coaching Site Guide.
Coaching Website Mistakes #2 – Not having a specific audience with a specific problem (Yes, I said problem not challenge).
It's not easy to get attention when you tell people, Hey, I'm a coach and I can make your dreams come true!
Not only is a message like this general and ambiguous to folks, it can leave you feeling like a snake oil salesman. But that's what you're essentially doing if you don't have an idea of who you want to coach and what matters they need coaching on.
Being too general is a good way to bore people with a weak message that gets little to no response and leaves everyone without a clue about what you do.
However, when your website is targeted at specific people with a specific challenge, the appeal goes up. And while not everyone will perk up, many will (that's the key).
Coaching Website Mistakes #3 – Selling coaching services when you are really selling solutions to problems.
Contrary to the intuition of many coaches, you are not in the business of selling coaching. You are in the business of selling a solution to a problem.
It's just like hiring a fitness trainer. People don't want to lift weights and do cardio. They want to look good, get fit, and get healthy.
And so, they will work with a trainer who shows they know how to solve that problem (of being tired, weak, overweight and out of shape).
Consider two fitness trainer websites:
One website talks about meeting 3x per week with the trainer, that the trainer went to fitness school, and lists out that the trainer knows about pilates, yoga, and plyometric training.
The other website shows dramatic before and after pictures of clients, shows the fitness trainer's perfect physique, and teaches you how to get motivated even if you're tired after a long day's work?
Which one do you think will attract more clients? Which ones solves a problem?
Again, people hire coaches to help them solve a problem and obtain success – like turning a low-paying dead end job into a fulfilling, lucrative career.
Your website needs to do the same.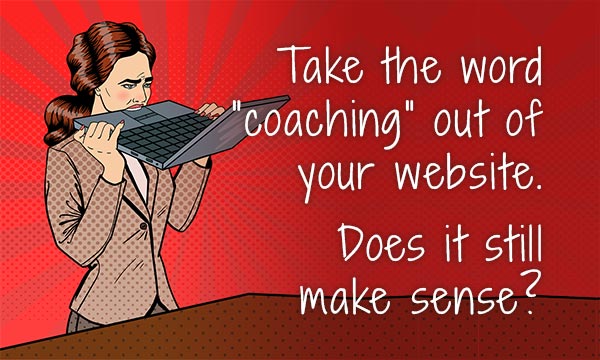 Coaching Website Mistakes #4 – Not realizing that content needs to be written – and written well.
Many coaching websites go up without realizing that that content is vital. These sites tend to be image heavy and wording light.
To present yourself as a professional, credible coach, you'll need to write good content to:
Explain what you do in an easy-to-understand way
Prove to your visitors that you can help them
Build interest in your coaching services
Make visitors feel they can trust you
Connect on a deeper level with visitors
Encourage visitors to take action
If you can do that, you'll generate new contacts.
Coaching Website Mistakes #5 – Not knowing what you want your website visitors to do.
As a coach, you are looked upon as the person to lead your clients to a better situation. And so your website will need to do the same – lead people to taking helpful action.
If you don't have a clear sense of what you want visitors to do, your image as a catalyst to success is weakened and the desire to hire you is greatly diminished.
For most coaching websites, the action will simply be to contact you for a chat about working together. Make sure that invitation is easy to do and exciting for the visitor.
Coaching Website Mistakes #6 – Hiring a friend or family member to do your site.
This always sounds like a good money-saving idea at first. But in the end, asking a friend or family member to build your site almost never works.
The main reason for failure is that  your website, which will surely require hours of a friend's personal time. And since it's not paid-for, it falls to the bottom of their priority list. Playing golf or hitting the beach will always come first. And it's tough to push them along because it's your friend and they are doing YOU a favor.
If you do get a friend to do the job, make sure you also pay attention to:
(1) content, making sure it's written to appeal to your ideal client, and
(2) the pages and calls to action are setup in a way to realize some result like getting visitors to contact you.
If you're thinking you want to outsource to a freelance web designer at websites like UpWork, you'll want to tread cautiously.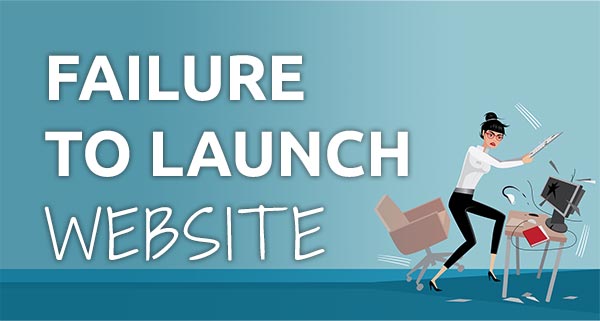 Coaching Website Mistakes #7 – Worrying about search engines too much.
Getting traffic from search engines can work but it takes work to do it. And most web designers won't be able to make it happen.
Nor is it always a great idea for new coaches to pursue as their means to getting traffic and new clients.
It would be a smart idea to have a brainstorm and a planning session about your path to getting clients including everything from visibility, to credibility, to sales funnel, to phone call.
Before you worry about search engines, you're better off building a site with good, credible content; smooth, easy-to-use architecture; and a bio photo that your potential clients will relate to and find appealing. This will serve you much greater at the outset.
As long as your website has clean coding that complies with Google, opens up quickly, is accessible to everyone (browsers, mobile, etc) and has its tags written, you're doing well.
For more SEO fun and excitement, here are four tips and my rule of thumb to get high search engine rankings.
Coaching Website Mistakes #8 – No project manager.
Whether you hire a designer or do it yourself, one person will need to be responsible for completion of the website as the project manager.
The problem is, as a coach, you're not familiar with the design process and will expect the designer to take lead. But many designers behave like employees, waiting for you to take charge.
My favorite ways to get a handle on this is to set a deadline and get clear on your website sitemap. See 12 Tricks to Build a Website Fast.
Coaching Website Mistakes #9 – Not being able to update your own website.
If you're a coach in business for yourself for the first time, you'll want the ability to make simple updates for two reasons.
First, since many newer coaches have tight budgets, doing your own updates saves you money that would otherwise go to your web designer.
Secondly, the time it takes to email them your update needs, you could have just done it yourself. This includes things like fixing typos, changing content, or posting a blog.
As a tip, before working with a web designer, make sure you two agree that after the site is built, you will spend some time getting familiar with the back-end content management area.
Coaching Website Mistakes #10 – You don't own your site and name.
In an attempt to make money from your continued existence, many web designers will register your domain name and hosting services for you, but under their name.
They end up owning your website and you're stuck with them for better or for worse.
Ideally, you should own your website and domain name to give you the freedom to go elsewhere if need be, and to protect you from unexpected high fees.
And there you have the top 10 coaching website mistakes. Have you fallen into any of these pitfalls? Share your story below.
In conclusion, bear these 10 pitfalls in mind as you develop your first coaching website. They will put you years ahead, save you thousands of dollars, and most importantly, help you build a profitable, fulfilling practice.