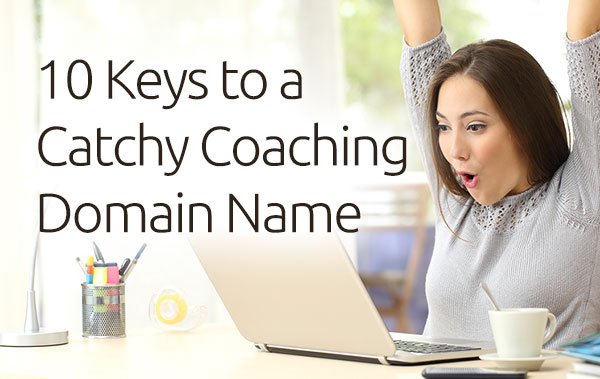 Your coaching biz is your new born baby and it deserves a great domain name!
You want something that resonates deeply with you. Something that people will love. Something that rolls off the tongue nicely.
But it can be easy to get caught up in the naming game with so many names already taken, and simply by overthinking it.
But worry not, great names are still available if you give it a good brainstorm.
Here are 10 keys for finding a catchy coaching domain name …
By the way, after you read this article, I highly recommend you jump over to this newer one with some real life examples and strategies for choosing a winner: Find the perfect domain name and setup WordPress.
You want to choose a good one, but are worried it might be too long, confusing, or there might be a better one if you just think a little bit more.
1. It's easy to read
Online, we love it when things are easy and hate it when they are difficult. And this goes for everything even something as small seeming as a website's domain name.
2. It's easy to understand
Again, if we have to think hard about what we're reading, it creates doubt, hesitation and stalls action. If your domain name is easy to read and we can quickly "get it", that's a big plus for you.
3. Shorter is better
Names with simpler, shorter words are easier to remember, spell, and share. Thus, www.CoachJohn.com is better than www.JohnSmithBusinessCoachingandConsulting.com.
4. It's easy to remember
The easier it is to recall a website's name, the more likely people will go to it and tell others about it.
Have you ever been in a situation where you or a friend said, "You gotta check out this website called … umm … I'll email it to you when I get home."?
That's not good.
5. It's easy to spell
Some domain names are easy to read and understand, but difficult to spell. And if people can't type it in right, they won't make it there.
For example CounsellorJeannetteGreene.com. Were there two Ls, two Ns and did it end with an E or not? Gah. (If you do have something like this, be sure to register the common misspellings and redirect those to the main domain name.)
6. You like it
You're going to use this domain name for years to come. It should be something that sounds and feels good to you.
7. It expresses a benefit
Remember, your target audience wants good things in life or work. If your domain name can tickle that fancy, it's ideal.
For example, www.OvercomeLifeObstacles.com or HealthTipsforComputerGeeks.com.
8. It tells what you do
People love it when they click on links and the page they end up at is what they expect. It's godsend.
Thus a name like www.BizSuccessCoachJane.com or VibrantHealthWithJen.com would work well.
9. It's available
Every day, domain names are snatched up by new businesses and resellers. Use GoDaddy to see if your domain name is available or BlueHost (if you plan to build a WordPress website).
Even though we're in 2017 and so many domain names have been taken, with a little creativity, you can still come up with a great one.
For example, since www.SuccessCoach.com is taken, you could try www.YourSuccessCoach.com or SuccessCoachAdam.com.
10. Get a .com
Go for a .com domain name over a .net, .org, .co or any other.
I would try to get more creative about my domain name choice before settling for a .net.
Here are some examples of good coaching domain names …
Both www.LawBizMastery.com and www.AttorneyBusinessSpecialist.com are excellent because they express a benefit and tell what you do. I'd prefer the shorter one because it's easier to remember and spell.
www.InTheBusinessOfLife.com is good because it tells what the website is about. It speaks to its target audience: business executives who want to improve their personal lives.
www.GetReadyToLead.com is great because it speaks to those who want to be better leaders. It's also easy to recall and spell. Nice!
www.EbookCoach.com – It obviously tells what the website is about.
www.LifeCoachJohn.com – It's great because it's easy to remember, spell and pass on to others. It also indicates what John does.
www.PermanentFatLoss.com – For a health coach, this is excellent because it speaks to the challenge of being overweight.
www.JaneSmithCoaching.com – This is a superb choice because it's likely available, tells what the site is about, and is super simple to say, spell and recall.
Here's another article to help you find a great domain name …
How to Find the Perfect and Available Domain Name and Quickly Setup WordPress
How to Find the Perfect and Available Domain Name and Quickly Setup WordPress
Go get your sweet new coaching domain name now!
Here are two recommended places to register your domain name:
1. GoDaddy is a domain name registration powerhouse – the 100 pound gorilla on the market. I've used them for over 10 years. They sadly overload you with other offers which I skip. Use GoDaddy to check for and register available domain names.
2. BlueHost is a new favorite for setting up new websites on WordPress. You can also use their website to search for names. I like registering a name and getting hosting by the same company for easier, simpler setup. If you're ready to build your site and you intend to use WordPress, use BlueHost.
Apply the 10 keys above, find a super domain name, and go kick butt online!
I hope the ideas and examples above have helped guide you to a solid choice. And when you find some good ones, post your idea below.