Below are 8 of my best web writing tips for coaches to make content writing easy and enjoyable while insuring you create content that speaks to your visitors.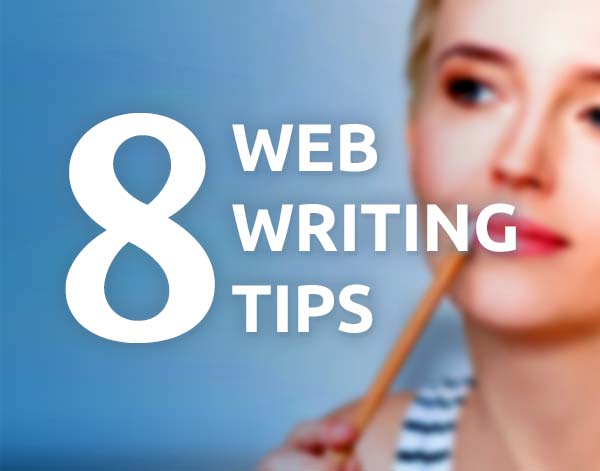 It can be rough to get words down on paper for your website. Real rough. Painfully rough.
Sometimes you may find yourself staring at a blank page for hours.
Or perhaps you'll, be able to muster up a random bunch of sentences.
Or, on the flip side, you'll have idea overload and write a ton of stuff that you can put together in a cohesive, useful, nice way.
You know it's important to come across authentically, and tell about who you are as coach, and attract the right kind of people.
And if you want them to think about hiring you as their coach, your website needs to be exciting.
The two struggles coaches face when it comes time to write are:
(1) Getting the words down on paper due to things like writer's block, perfectionism, or fear of being judged.
(2) Writing interesting content that will engage readers and sell them on you as their coach.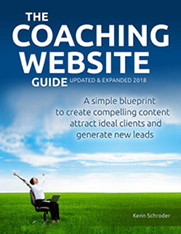 Learn how to create compelling content for your website so that your visitors will be eager to hire you as their coach in The Coaching Site Guide.
1. Shift into the mind of the client to find kick-ass topics people will love.
As a warm-up exercise, imagine one person who could be an ideal client.
It could be a great past client, a client you're currently working with, or an avatar – an outline of a specific person you're seeking as a client.
Imagine you are right there with him or her. You're having a good chat over coffee. You are connected and you are coaching them in one of those magical session.
What are they thinking? What's keeping them up at night? What do they struggle with? What do they eagerly want to realize? What going on with them?
Take a good 5-10 minutes to think as if you were this person. This a great move for finding topics to write about.
For example …
In a brainstorming session with Rachel, we wanted to come up with some good blog article ideas. I asked her about one of her ideal kinds of career coaching clients, "a person who hates going to work and wants to find a new career that brings daily happiness".
From that simple statement, we were able to identify have a handful of articles to write about including: How to begin finding a new career, How to transition from work you hate, How to identify a better career and not repeat the same mistake twice, and How to not hate your current job while you find a new one. 
2. If you're stuck trying to get the words on paper, tell yourself, It's just a draft.
You may be hoping to get a work of art down on paper on your first effort.
That's a tall order that I think you should skip.
Instead, think of your first effort as simple a first rough draft.
Aim to quickly get your best ideas out on paper, and forget about grammar, clarity and stuff.
I'd even set a 20-30 minute timer for that rough draft.
Many a wise writer has said that great writing is the art of rewriting.
3. Speak in your own voice. People love to feel the coach behind the website.
You may be stuck with writing because you're "trying" to be someone or something else.
Instead, let go of "trying" and attempt to write in your normal, conversational, happy-to-be-me voice.
Write like you are emailing a friend or texting, or chatting on the phone.
If you find yourself trying to be smart or trying to be intellectual, let go of it.
Write in your own voice.
4. As for length, write enough to deliver your points to the reader.
The length of a piece of writing will depend highly on it's purpose.
For example, if you want to have a blog article that serves as a one-of-a-kind killer resource to boost your credibility sky high, and you intend to share it wildly, it could be 1500 or more words.
If you are merely aiming to launch your first website in a week, you could create 500 word pages for things like your About Me, Work With Me, and Success Stories pages.
Key things to consider when thinking of length:
Keep it long enough to cover your key points.
Consider the length typical works of the same nature as a starting point.
If you are selling something, write more content, rather than less.
For your first draft don't worry about length, and get supporting content down on paper first. Trim it down later.
5. Some formatting tips to make your layout easy to read.
This handful is what drives 95% of content formatting:
If you want to emphasize words, use italics.
Bolding stands out more than italics, and is often great for key points.
Don't over-do formatting or you get a mess (like bolding everything on a page).
Avoid underlining because people will confuse them as links.
Use bullet points and numbered lists – people love them.
Shorter paragraphs, even as short as 1-2 sentences, are great.
Also, avoid over-formatting with too many colors, fonts, styles or sizes. It usually makes a mess.
6. The We/I Issue solved.
When you write about your business, should you use the word "we" and try to look like a bigger coaching company for higher credibility OR should you use the word "I" and be transparent that you're a 1-person business and worry a little that you'll look small or fly-by-night.
If you truly are a group of coaches working together, then go ahead and refer to your team and use the word "we" where appropriate on your website like your About Us page.
If you're a single coach business, then use the word "I", and don't worry much more about it.
But here's what's truly important in your website content …
Worry less about using we or I and make sure the bulk of your writing uses a lot of "you".
For example …
This is nice to write about …
Our coaches are practitioners of the performance-based coaching approach called the G.R.O.W. methodology. This process includes goal setting, brainstorming options and determining ideal action steps.

But this is much better …
We use performance-based coaching to keep your action steps clear and focused each week. You'll quickly see results in your business including fewer hours worked and higher sales figures. The fear and worry you once experienced will be replaced with feelings of confidence and accomplishment.
Remember, your website is all about the client, and so make sure the word "you" is found in plenty.
7. Use an active voice to hold the reader's attention.
Using an active, direct voice makes reading faster, and easier to understand.
For example, instead of writing, High levels of stress are often caused by poor life balance, be direct and say, Poor life balance causes high stress levels.
Avoid an indirect or passive style.
In other words, you might, sort of, want to avoid wishy-washy words like may, might, could, can, can be, virtually, as much as, help, like, believe, possibly because they typically, tend to weaken your points, well sort of.
😉
8. Don't try to be smart. Be helpful.
When writing, you don't need to sound like you know everything.
Instead, aim to be supportive and helpful. Share what you DO know.
People love being able to feel a real, caring, human behind the words.
One-Minute Action Challenge: Check out the gurus.
In the next minute, have a look at the blogs of authors, experts, or gurus that you follow.
Are their pages easy to read?
Are they choosing topics that you love?
What formatting (bold, italics, lists) are they using?
Can you feel the author behind the words?
What's awesome about their content?
Post your discoveries below.