Coaching Websites That Work – 10 Traits
Key characteristics of a coaching website that grows your business instead of just collecting cyber dust — from 20 years of design online.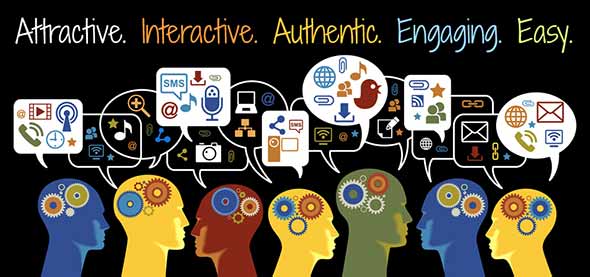 Trait #1 – Your Coaching Website Serves a Specific Business Purpose
Many new coaches want websites to show they are "open for business." They want it for a line on their business card or a link on their LinkedIn profile.
And that's "ok." It'll save you the stress of having to say tell anyone that it's still under construction. Dodged that bullet ;P
But as soon as you start getting the word out and send people to your website, you'll start to see that your scrapped together, overnight sq-wix-eebly-spacer ainta gonna cut it.
You don't get any leads. Things go quiet. You have no idea if it's working. And the only feedback is your spouse's warm, "that's nice dear."
Most newbie coaching websites lack good content, are visual hodgepodges and technical clunkers. They aren't engaging and have no useful underlying strategy to grow your biz.
Rather than creating a coaching website "because everyone has one," get clear about how it will promote your services, get your name out, and attract new clients. Get numbers to measure this so you can undoubtedly say, "Yes! It's working!"

Kenn Quote (to make me sound like a guru so that you fall in love and hire me as your designer)
Here are a few example purposes that have merit:
Generates new client leads
Gets traffic from search engines
Grows your email list
Increases social followers
Brings in new referral partners
Increases course, program, book sales
Gets more speaking gigs
By the way, here's a blog post about the most common coaching website mistakes to avoid.
Also, my YouTube channel is full of coaching website reviews with tips to improve content, visuals, and strategy.
And, while I'm overloading you with info, check out The Coaching Website Guide for my best advice all in one place.
Trait #2 – It's Focused on the Visitor
While YOU may want a site that makes YOUR business look good, the irony is that your coaching website must be appealing to THE VISITOR.
It's the visitor, the ideal client, the BUYER who truly needs to be impressed. Remember, he/she is the decision-maker.
How do you do this?
Share content that interests the visitors, like articles that teach, stories that inspire.
Don't go too deep into the mentally heavy concepts of coaching.
Organize content in a way that makes simple sense, answering the basic questions clients have.
Make the ACTION STEPS that you want a visitor to take (fill out a form, buy a book, subscribe, etc.) very easy and crystal clear.
Remember, your website ain't all about YOU. It's gotta be focused on the VISITOR.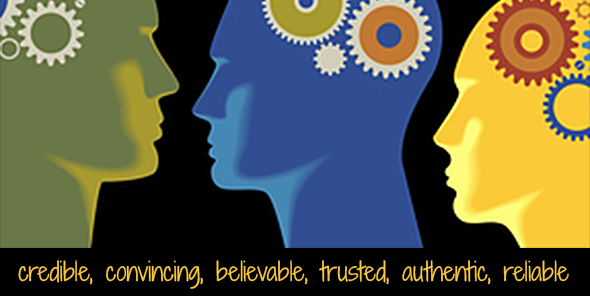 Trait #3 – Your Coaching Website Builds Your Credibility High
Coaching is a one-on-one, personal service. It carries a high price tag because you're paying for a professional's time. Think about the hourly rate of a lawyer.
Coaching is not a commodity like buying sneakers, a book, or a banana where you'll pretty much buy what's there or price-shop just a little.
As such, when people consider hiring a coach, they gravitate to one who:
is well known
is highly trusted
is very helpful
There's a handy word for this person, expert.
If you've read much of my stuff, you'll know that I'm big on positioning yourself as a highly credible, professional, talented expert when it comes to your website.
And that's to attract the kinds of clients accustomed to paying the high fees for that skilled, one-on-one help.
Some ways to exhibit that high-end image on your website:
Write articles, share videos, or create tools that serve your clients
Present well-written success stories, case studies, or testimonials
Deliver handy content to your email list, blog, or social platform
Show works you've created like books or courses
Highlight leadership roles you hold or held
If you think about the people you've hired for one-on-one help, can you recall how you made that decision? What about their presentation (website, conversation, materials) impressed you the most?
Trait #4 – It's Visually Appealing
Many coaches want their websites to look great, but do it wrong.
They are often collecting pretty pictures and sticking them on their websites without consideration. For example, you'll often see a sliding carousel of images on many websites.
I don't recommend doing that because it just hogs space, doesn't add to your message, and slows down your website.
Instead, when it comes to visuals, I recommend you:
think about your ideal client and the overall message you want to express (vibrant life? serious business? healthy body?)
choose colors, images, and textures that invoke the feeling you want to give off
make sure your visuals and images support the text that they are next to, like a diagram showing your 3-step process as you explain your approach to working with clients
And I recommend you do not:
use too many colors, fonts, styles, or sizes for your text and headings because it makes reading difficult
put images or visuals on a page that do not relate DIRECTLY to the content
don't overdo visuals in an attempt to make things pretty
When the graphics, pictures, and words are delivered in a smooth, natural way, people will spend plenty of time on your website to learn about what you do.
Get a simple website blueprint so you can create compelling content that attracts ideal clients and generate leads in The Coaching Website Guide.
Trait #5 – Your Coaching Website Sells YOU
A great coaching website should lead visitors to think, I've gotta hire this coach! – and then make it easy for them to get in touch.
For newer coaches, here some great things to include on your website to help you sell coaching:
Content that highlights the unique value you bring because being different is memorable and attractive.
Details about your process and how it brings success because if you've got a method then, well, you probably know what you're doing 😉
Stories of help you've provided to others because the proof is in the pudding.
Ideally, when you get on the phone with new potential clients, they are quite heavily pre-sold from your website.
People like the chapter-by-chapter, page-by-page guidance for writing in The Coaching Website Guide.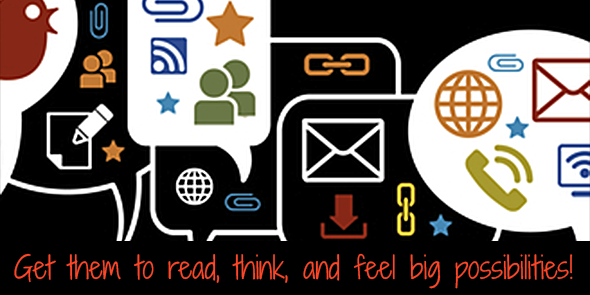 Trait #6 – It's Very Easy to Read
I've been doing website reviews for many years, and one of the biggest goof-ups is writing that's hard to read.
It's easy to see what works when it comes to readability. Just look at Google, LinkedIn, or any of your favorite blogger's websites.
You'll see they …
have dark text on a white background
use font sizes that are easy to view without squinting
use headings and sub-headings and not much more
avoid using too many fonts, colors, and sizes for text
do not bold or capitalize everything (I hate that!)
Just remember – if people struggle to read your content, you lose.
Trait #7 – It's Simple to Update
Oddly, I still run into a few instances where a coach has a website built and pays quite a bit for a professional designer to make simple text edits. This shouldn't happen.
In the amount of time that it takes you to compose an email with changes for your website copy, you would be able to do it yourself.
I love WordPress because with a few minutes of training, you'll be able to get in quickly and access website copy.
Some things you'll want to be able to quickly tweak on your website:
add / remove a page
change text
insert images
update your menu
email your list
publish an article (blog)
manage comments on your blog
update email messages
edit testimonials
A coaching site that works will save you time (less back and forth) and money when updating the small stuff.
Trait #8 – Your Coaching Website Builds The Relationship
I know we all hate the word "sales".
Me too.
Having to "sell someone" on anything is a big turn off.
But in so many years of helping coachings with their websites and then onto filling their practices with clients, I've come to see this dirty word "selling" in a different way – a better, more genuine, positive way.
Selling is really about working for your client, creating a lot of value for them, and serving them in a big way WHILE you also look out for your income needs and respect your time. It's about forming a good, productive relationship with clients.

It's about honesty, trust, respect, and mutual gain with clients.

And it's about taking ownership of the effort involved to find the fit and lead you two to be happily "working together."

Kenn Quote
If you can see it from that angle, I think it'll do a lot.
When it comes to your website, you've gotta have an underlying strategy or process for finding and signing up new clients – a process to get you two talking and then working together nicely.
Your website will play a part to get your name out there – where potential clients learn about you, leading them to contact you – wanting to work with you.
Different coaches will do things differently. Ideally so since they oughta leverage their talents and resources to grow their businesses.
Just make sure you think about your website in context — having a process to build a positive relationship as you seek new clients.
Speaking of strategy, here's one way to get coaching clients online.
Trait #9 – It Looks Great on Mobile Devices
In September 2019, 34% of the visitors to CoachingSitesThatWork.com were coming from a mobile device.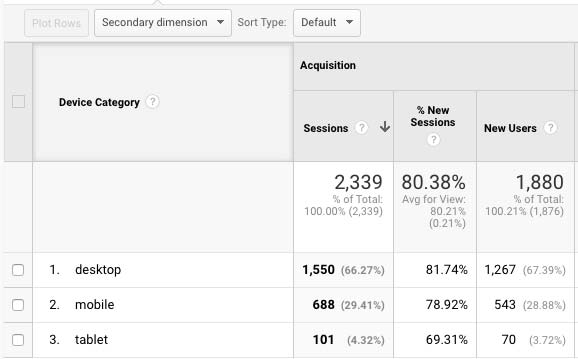 On closer inspection, you can see most of the mobile users were from iPhones and iPads.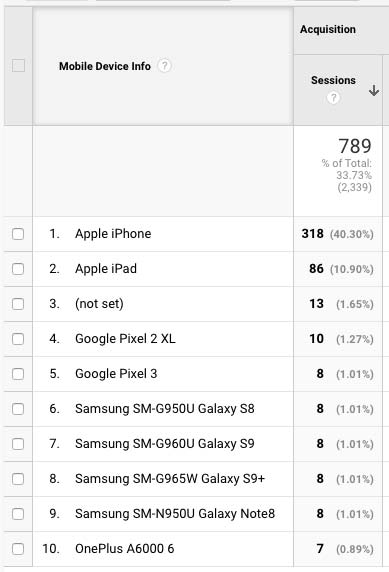 Needless to say, I own an iPhone and iPad and those are my first places to test website designs.
If your website has been around a while, you might want to double-check it on your phone.
Trait #10 – Your Coaching Website Doesn't Suck Up Your Time
Whether you hire someone to build it, do-it-yourself, you absolutely CANNOT let your coaching website drain your time.
I see this often.
Coaches start out wanting to create the coaching business of their dreams. And so, with a family and full-time job, they allow some spare time to start working on their websites. Half a year goes by, and they end up becoming a worse-than-novice web designer instead.
Don't let time disappear because you have other pressing matters:
Getting marketing (visibility, traffic) strategies in place
Having phone calls with prospects to convert them
All sorts of administrative tasks
And let's not forget, making time to coach people!
It's easy to fall down the website-creation rabbit hole because there are so many bells and whistles to play with, and playing with them is fun.
Also, tech hiccups can throw you for a loop, not only wasting time but giving you greys.
Did I mention copy? That needs to be written too – and written well!
So, you've got to keep the big picture in mind – marketing and finding clients and realize that your website is just a part of that.
Get it up, get it going, just what you need, hand it off to someone to manage, and avoid wasting time.
So, does your coaching website work?
Wuddya needa fix?
I'd love to hear what thoughts and ideas are coming up for you as you build and enhance your coaching website.
Post below, and be sure to include your website address for that little search engine boost.