How to Get 10 Ongoing, Paying Coaching Clients from the Web
Many coaches want to climb that first mountain of success in their coaching business, proving they can do it. And for most, that means a steady supply of paying, coaching clients.
Typically, this means obtaining a steady supply of paying clients, often 5 or 10, that will support your lifestyle, enable you to leave an undesirable job (or go part-time), or add a nice supplemental income stream.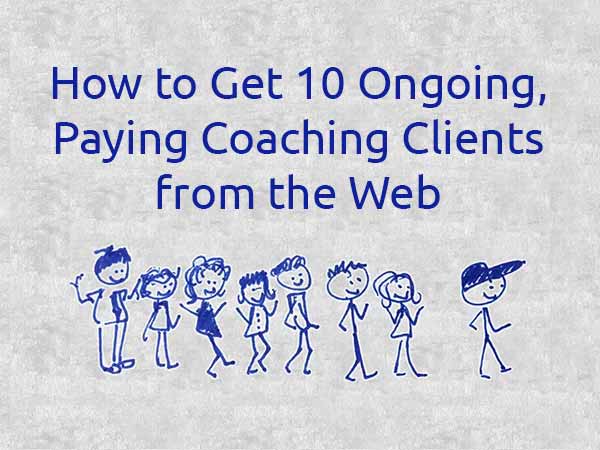 Oh, and let's not forget that you can enjoy soul-satisfying work and feel great about impacting the lives of others. Celebrating wins, big or small, with clients is pure joy.
If they can start an online business, and get coaching clients via the Web, then you'll have the ultimately lifestyle-building flexibility, and be able to:
set your hours and work in your pajamas
travel or live wherever you want
pursue other hobbies and projects
V E R Y N I C E ! ! !
This was my dream when I left my corporate job to do my own thing. I wanted the ultimate flexibility in work, so I could visit interesting cities like Paris, Buenos Aires, and Puerto Vallarta.
Here's an email from a past client of mine, Mitzi, who built her online coaching busienss via content writing (blogs).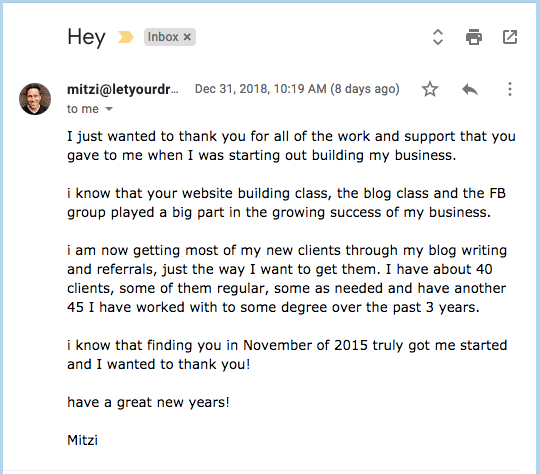 Her website is LetYourDreamsBegin.com, which is quite active.
If you were to get to a constant stream of clients from the Web, which paid you a good income and gave you flexibility, how would you change things in your life?
Would you get more sleep?
Spend more time with friends?
Visit places you've always wanted to go?
Whatever your dreams and goals are, to make that happen as a coach, you'll need to bring in the clients and income, and do that using the Web.
Let's talk about how to do that …
The 8 Steps to a Steady Supply of Coaching Clients from the Web
Step 1. Sharpen Your Message
An experienced lumberjack spends a lot of time sharpening the blade AND carefully picks his contact point on the tree. He cuts down trees fast.
Me, totally ignorant, would spend zero time sharpening and chop all around the base of the tree. It'll take me forever to bring it down. Ineffective.
This is because focusing has more impact.
The same goes for your coaching business.
Instead of wielding the statement, "Do you want coaching?" online, which is vague and weak, try honing it to a specific person with a tough challenge, and be selective where you swing it.

Kenn Schroder
I like crafting a persona (a single person with a specific, big challenge) and then positioning online materials (website, email, messages, everything) to speak to that person.
People can't help but respond to what you say if it's tailored directly to them.
Step 2. Find Where Clients Hang Out
With your ideal client in mind, your next job is to find ways to get your message in front of them online.
There is an ever-growing number of ways to do this: article writing, online networking, cold emails, ads, videos, webinars, social media, and more.
For example, if you're working with massage therapists and new-age bodyworkers, a quick search in LinkedIn Groups revealed one with 14,000+ members, shown here: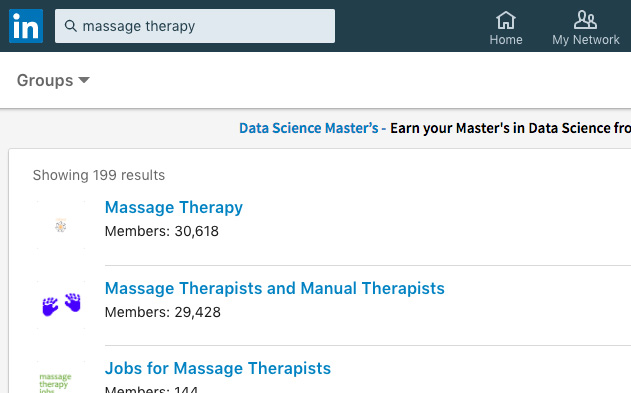 On Facebook, I quickly found a group of 33000+ members, shown here: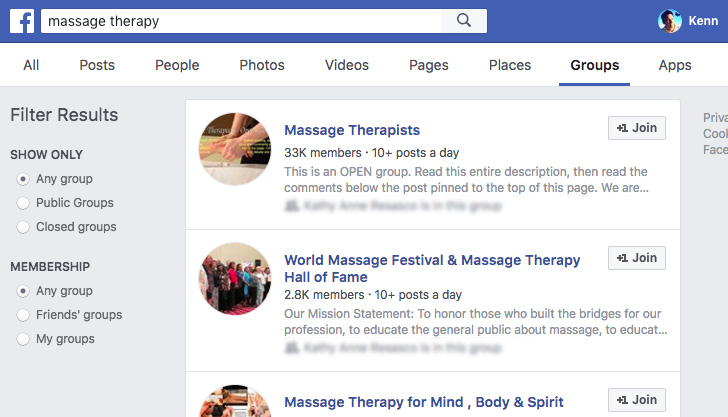 I like to find ways to reach possible clients where they hang out in mass. Spend time in those groups for direct access to your market.
Write articles to teach and educate, and you'll quickly become a voice people listen to. Be coachy and inspire, question, cheer and challenge them to do great things, and they'll look to you for support.
If you're submitting an article or an ad to a publication, they likely have a blog or online community where you can show up as well.
Step 3. Make Some Noise to Get Visible
Now that you've found out where they hang out online, or rather where they pay attention, your job is to put a message (ad, article, post, etc.) that will get their attention.
You've probably seen heaps of ads on Facebook when you scrolled thru your news feed. They are from the marketers WHO CHOSE YOU based on the info from your profile.
They "made noise" where you "hang out" to get you to buy.
In essence, you're doing similar to reach clients. Just do it smoothly, invitingly, as a good coach would.
If you were providing business coaching to massage therapists, you could join those groups in the previous step and start discussions, or share blogs, or even run an ad in those groups. You would check out the group rules and speak to the group leader to see how to go about it.
Step 4. Drive Them to Your Website
However you "make noise" in your various "hangouts" is up to you.
You'll need to direct the attention you get to your website, where people can learn about what you do and be invited to talk to you about coaching.
Here are a few examples:
If you shared a link to your blog post titled, 3 Mistakes Massage Therapists Make that Stop Them from Getting New Clients in a group of massage therapists, then the link would drive traffic to that blog post. That blog post would then lead them into a call with you.
If you ran an advertisement on Facebook and chose people in that group to receive the ad, then your ad would drive traffic to a specific page you want them to see – perhaps your Strategy Session offer (a call to both help them and then invite them to sign up for coaching).
If you've posted a profile on Noomii.com (career and life coach directory), then your profile will have a link to your website. Noomii will handle the sales (get to know each other) process.
Your website is your selling system. Be intentional about it. Own it.
I wrote about the intricacies in The Coaching Website Guide. Don't leave home go online without it!
Step 5. Engage Them
When they get to your website via an ad, article, link, or other, you'll want your website to engage and excite them instantly. Get visitors reading, viewing, and clicking around to learn WHY you'd be the perfect coach for them.
Two powerful ways for instant immersion:
Craft headlines that hint to value
Create headlines for your pages (homepage, blog articles, the About page, etc.) that make people want to read them, like:
alluding to valuable learning in the copy below
real stories that inspire your visitors
insights that will lead to your clients' success
I have this Mystery-Value Technique that I use for blog titles. It works for all sorts of content too. And, if you lack ideas for content, here are 29 things clients LOVE to read about on a coach's website.
Makes the layout welcoming
Your website and pages should have a logical, organized, easy-to-follow layout. If a page is chaotic and confusing, people run away.
Some tips for good organization:
Your logo should be at the top and not big.
The menu should be at the top, consistent across pages, short and sweet.
Keep the hierarchy of content simple and intuitive — a big headline, smaller subheadline, and normal-size body copy are all you need.
Have one logical purpose for each page.
Here are 8 Web Writing Tips to make content easy to read.
Whatever material you put together — success stories, infographics, free downloads, or videos — they must deliver something useful to your visitor.
I use and teach a design to attract approach to engage visitors, get them to reading, and turn them into potential clients. It's a beefy PDF called The Coaching Website Guide.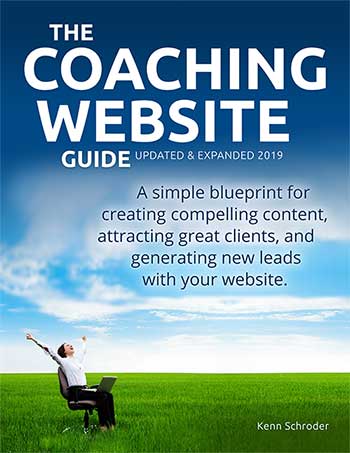 See if it's what you need.
Step 6. Grow the Relationship
Clients with big struggles and strong referrals will contact you right away. Many visitors won't be ready for coaching or will want to get to know you more.
This is where an email list (or social group, or private membership, or other exclusive access) is great to have.
Over time, as your list grows and you serve them with handy info, you'll have a pool of people who know, like, and trust you.
Then, at any time, you can invite them for that exploratory chat and turn them into active, paying clients. It's like having a waiting list that keeps your practice full.
Step 7. Call Visitors to Action
As your list grows, it will provide you with future clients, keeping you happily busy.
All you have to do is send an email to your list with a juicy invitation to get on the phone with you.
In that email invitation, be sure to give folks a hoop to jump through, like asking them questions to respond to, and even a small fee to:
qualify themselves so you can avoid the time-wasters
get them to spend time and energy (thus invest) in the process
give you an idea of what they are facing, so you can warm up before the call
The selling process is faster and easier when generating leads from your list than it is with cold leads from unknown sources because your "tribe" already knows and likes you.
Here's a neat article to get more client leads from your website: 5 Ways to Get More Free Session Requests From Your Website.
Step 8. Wow Potential Clients in the Call
At this point, you've got a potential client on the phone with you. It's time to impress them and show them that working with you is a great idea.
What I've found most valuable in getting clients to sign up are two things:
ONE: LISTEN FULLY AND DEEPLY
Be fully present, and pay close attention to what they say — their struggles, goals, and everything in between. This is a huge trust and relationship builder.
Just being there, letting them speak aloud, starts to clarify thinking, open up energy, and create momentum. You being the patient ear, is a catalyst for change and success.
Clients needs this space to "figure stuff out." Yes, the act of coaching a powerful sales tool.
TWO: CLARIFY THEIR BIG PICTURE
Help them get clear about their desired future state. Looking at where they truly want to be will, getting specific about that, brings about energy and force to go there. It brings ideas and solutions.
Similarly, I like to look at the unwanted future state as well. It's the place they'll end up if they continue on their current path. If that's a big problem, then working with you is double a good idea.
The difference between these two possible future states is a powerful way of looking at what's at state. Hiring you will bring the desired and avoid the unwanted.
In The Coaching Website Guide, I've written a chapter about this special strategy session and how to use it to get clients eager to hire you. It's a natural approach to inviting clients to work with you, so you don't have to be clumsy or awkward.
In conclusion, if you want a steady supply of coaching clients via the Web, you'll need to set up an exciting, engaging path that leads them to an easy decision to work with you.
Remember that:
There are plenty of clients out there, and they are stuck, struggling, and frustrated.
They are waiting for you to show up in their lives and are just around the corner.
Get out there, tell them about your coaching, and invite them into a call with you.
Here are those steps again:
STEP 1. Sharpen the blade by focusing on a specific person and pain.
STEP 2. Find hangouts where these ideal clients put their attention.
STEP 3. Make some noise in those places so that clients can discover you.
STEP 4. Drive them to your website to be wowed.
STEP 5. Engage them right at the home page with content.
STEP 6. Grow the relationship and win their trust.
STEP 7. Call visitors to action like requesting a call with you.
STEP 8. Wow potential clients in the call by becoming their confidant for success.
Your thoughts are pouring out of those ears. You might as well post them below.