Below are words, terms, definitions, phrases and more jargon to help you understand how coaching websites work – especially for how to use them to attract clients.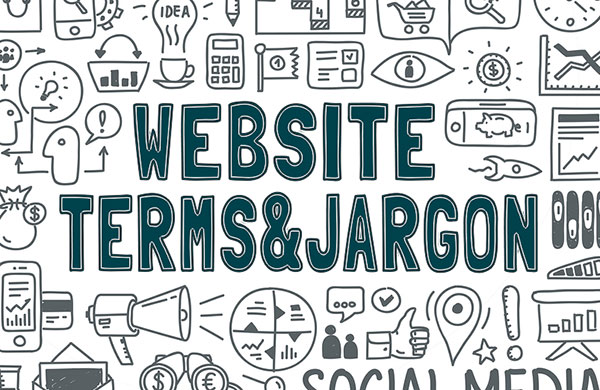 Blog
A blog is simply a website for logging content (kinda like a diary). web + log = weblog or simply blog.
In the early days, blogs were used to track weight loss, a personal trip or your favorite recipes.
Today, many businesses use them to build credibility. For coaches, it's an incredible vehicle to build a big following and attract new clients.
Strategically, use your blog to showcase your knowledge and teaching people how to succeed or grow. Share great blogs in your client hangouts so you c n attract new clients to your website. Be creative and make it fun by posting in a way that uses your strengths and talents like using videos, doing short articles or long ones, using diagrams or what I like doing: chicken-scratch and stick figure drawings.
Client-Attraction Design
Attraction Design, Attraction Web Design
Combining words, visuals and interactivity on a website in a magical way to attract ideal clients to you.
Such a website has:
features that bring visitors to it (traffic)
content that builds trust and credibility
calls-to-action that get visitors to contact you or buy
In The Coaching Site Guide, I discuss how the expert website model works and how it's used to bring traffic, build your image, and get coaching session requests.
Strategically, be sure to begin by identifying the measurable outcome you want from your website.
Client Hangouts
These are places where your ideal clients gather in some way shape or form. It's a place for getting in front of potential clients.
For example, one of my clients published an article in a trade magazine for builders. And while it took some time to find this hangout (find the publisher, meet them, earn a spot in the magazine, write the article, get approved, and drive traffic), nearly every one of the readers of that magazine was a potential client. That's a very client-rich place.
From that hangout, we got traffic, subscribers and new clients. Plenty to fill his coaching business.
Strategically, seek out hangouts where your ideal types of clients hangout. There are many both online (social media, discussion groups, magazines) and offline (meet-ups, networking events, any place people gather).
Compelling Core Message
Your core message is the short 1-2 sentence write-up that tells what you do in a compelling way.
It's like an elevator speech or your 30-second intro often used in networking groups except this is for your website.
Many coaches build their websites without any thought to this and they end up creating a mess. They create websites that have no central theme, where colors and visuals are all over the show, and the content is either lacking, confusing or boring.
Here are two articles about creating a compelling core message:
The key to a compelling core message is to make sure it's written from the client's perspective.
Call-to-Action
This is an invitation for your visitors to complete some task on your website.
Some examples include:
click on a link
fill out a form
buy an ebook
register for a webinar
sign up for your email list
contact you by email or phone
leave a comment on your blog
like a page
watching a video
For example, if you want people to join your list, give them some small handy resource (freebie) for doing so and tell them about how they can benefit from future content you'll send them.
As another example, when you invite visitors to contact you for a free consultation, be sure to point out the value for doing so such as getting clear and exciting goals and find a doable plan for quick success.
Strategically, make sure your calls-to-action are enticing, so that people will want to do them.
Domain Name
When people ask, What's your website? or What's your address?, or What's your URL?, they want to know your domain name.
URL, which is a bit more technical, stands for uniform (or universal) resource locator.
For example, the domain name of this website is www.coachingsitesthatwork.com.
Your domain name is simply the pointer to a location on the Web (a computer) where your website exists (all the files, images, etc).
Every website must have a domain name, though you don't always have to pay for one.
The free ones aren't great for branding and hint that the website and business behind it is amateur. For example, www.weebly.com/johnswebsite.
You need to register your domain name to own it and manage it. It doesn't cost much, about $10 a year. I like BlueHost.com for both registering your domain name and getting hosting. You can also use Godaddy if you start accumulating more domain names.
Strategically, for you to get a domain name that's good for client-attraction, make it simple to spell, easy to remember, and related to what you do, and if possible, point out benefits.
Here are two articles to help:
Email Series / Autoresponders / E-course
An autoresponder is just that, an automatic response by email.
For example, a contact form on a website that automatically sends the website visitor a copy of their message is an autoresponder.
You can setup a series of emails (email series, autoresponder series, or e-course) to go out over time to on a specific schedule, for example, every 3 days.
It's cool to automate emails because you write them once, and they get sent out over and over to new people who join your email list. It's a time-saving credibility builder.
Strategically, a great way to make use of an email series is to create emails that deliver a lot of value and invites a recipient to take action (like buy or  call you).
Expert Image
Expert Status 
People love to work with experts.
And since the title expert has no definition, you only need to look like one to reap the benefits of it.
Nonetheless, conceptually, you want to showcase your smarts and intelligence and build an image that attracts people. An expert image.
Strategically, the move to make is to do things experts would do like post great articles, write good books, share stories of success with clients, keep a blog, have a professional photo of yourself.
The Expert Website
This is a special kind of website I use both for myself and for clients to attract clients.
This type of website includes a guru-like blog, an active email list, a must-have freebie, client-focused content, and calls-to-action you can't resist. I go into a ton of detail about this in The Coaching Site Guide.
It's great for driving traffic, building your expert image, and generating new client leads.
The key is to build your expert image while driving traffic and generating new contacts.
Hosting
Web Hosting
Simply, this refers to a service you pay for to keep a computer running smoothly so that your website (the files, database, images and all that jazz) are up, functioning properly, fast, 24/7.
Check out BlueHost for both registering your domain name and hosting (especially if you're going to use WordPress). GoDaddy is also great for domain names.
99.9% of new coaches building their websites don't need more than the basics of hosting. In time, say a year of blogging, adding pages, content and increasing traffic, you'll want to test out your speeds and make sure it's running fast.
Strategically, your hosting should to be a non-issue. You shouldn't have to think about it – just pay and get going. If given the option to geographically choose your hosting location, aim for your primary country or region where you expect clients to come from. Keep an eye on your website's speed with casual tests from friends around the country, your own laptop and mobile device. Pages should come up blazingly fast.
Ideal Client
The terms "avatar" or "target market" or "niche" are similar and refer to having a person (or group of people) with certain characteristics including demographics, situations, and challenges.
There are exercises (just do an online search for find your niche) to help you arrive at your ideal client.
One way to quickly identify an ideal client is to look at your past clients (paid or not) and find ones that were the best. Which were great to work with, easiest to find, and if paying, had little trouble?
Strategically, identifying an ideal client is a good thing to do because, just like having a niche, marketing and copywriting become easier because the specificity of an ideal client makes it easer to find them and speak to them.
Landing Page
A page where you want people to "land" first. This will depend on where you're getting visitors from. Thus, this page is very specific to the intention – in most cases to capture an email address.
Here are two examples to help you get it …
1. (Most common use) Say you your goal is to grow your email list and you have no website or blog. You make a 1-page website with a form that people can enter their email address into. You call this page a landing page for your intention of getting people to subscribe. You could call this an opt-in landing page.
2. You create a sales page for your ebook with reasons to buy it, testimonials and a big buy-now button. You also setup Google ads to send people to that page to buy. Thus that sales page is the landing page for your intention of getting ads to sell your ebook.
Strategically, to get your landing page to convert (get people to take action on that page) (1) make your call-to-action very easy and very visible and (2) load up the page with reasons to take that action like success stories, a list benefits, and a reason to take action now.
Lead Magnet
A lead magnet is anything you put out there that attracts a person to your website.
This could be a free video, report, checklist or any other giveaway that entices people to go from where they are to click to your website for the freebie and to jump on your email list to get it.
A search on Google got me this nice definition …
Lead magnet is an irresistible bribe offering a specific chunk of value to a prospect in exchange for their contact information. The goal of the Lead Magnet is to maximize the number of targeted leads you are getting for an offer.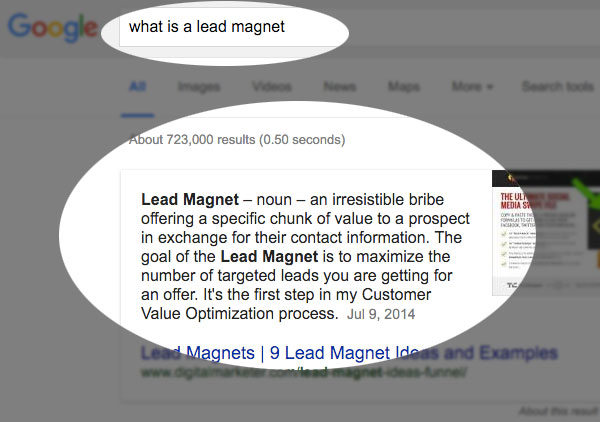 Strategically, your freebie is often your first lead magnet. You share it in places your ideal clients hangout so you can invite them to come to your site and download it and get on your email list where you start developing the relationship. 
List
Email List, Database, Opt-ins, Opt-in List, Subscribers
Your list, 99% of the time, refers to your list of email addresses you can quickly and easily send a message to.
Ideally, those people on your list have chosen to (opted) be on your list willingly.
They say your list is gold because those are the people who have shown an interest and are giving you a way to reach them.
The key to mining gold from your list is to (1) grow it by sharing the opportunity to join it (2) nurture it by sending helpful information and (3) make money from it by sending offers to them to buy (or you could send them to some sort of training or article, which in turn invites them to buy.
Sales Funnel
Marketing Funnel, Sales & Marketing Funnel, Funnel
This is the system (website, emails, videos, offers, upsells, everything) you've setup that interact with potential clients/customers so that they buying things from you like coaching, ebooks, memberships, or programs.
It can be simple or complex.
Strategically, for coaches who are simply seeking clients, the funnel will be simple with offers to visit your site, get on your list, fill out a form, or sign up for coaching online. 
Squeeze Page
Squeeze pages are similar to landing pages in that they are a single page with one action available which is to add their email address to the list.
For example, if a website says you can watch an awesome video and then you click, and then a page shows up that requires you to enter your email address before continuing, then you've hit a squeeze page. This page is squeezed in to get your email address before you see the video.
Strategically, a great squeeze page has compelling copy, no links or menus, and visuals that invite people to enter their email address, compelling 
Strategy Session

Sales Call, Free Session, Free Consultation
The strategy session is a special kind of coaching session that focuses on the big picture goals for the coachee while positioning you, the coach, as an ideal catalyst for reaching those goals.
This helps you sign up new clients or extend work with existing clients.
Typically, "free consults" are thought of as a sales pitch. While a "strategy session" is less intimidating and can appear more valuable.
Strategically to make this work, build up the value when you offer your strategy session. Then, when conducting the session, ask questions around the client's biggest desires.
Visibility Strategies
Marketing Strategies, Outreach, Traffic Building
These are the plans you have to get out in front of potential clients and drive them to your website and into your sales funnel.
For example,
Publish an article
Be a guest on a podcast
Optimize your website for search engines
Facebook Ads
Joining networking groups online and offline
Incidentally, giving a talk is not exactly a visibility strategy because your talk will itself need to be advertised or told to people. So giving talks needs its own outreach.
Also, creating a website isn't a visibility strategy either because the website's existence doesn't get you in front of potential clients. A website is a tool for sending people to from the visibility strategy.
The key to setting up great visibility strategies is to (1) find some places with potential clients and (2) establishing a means to get your name across in those places.